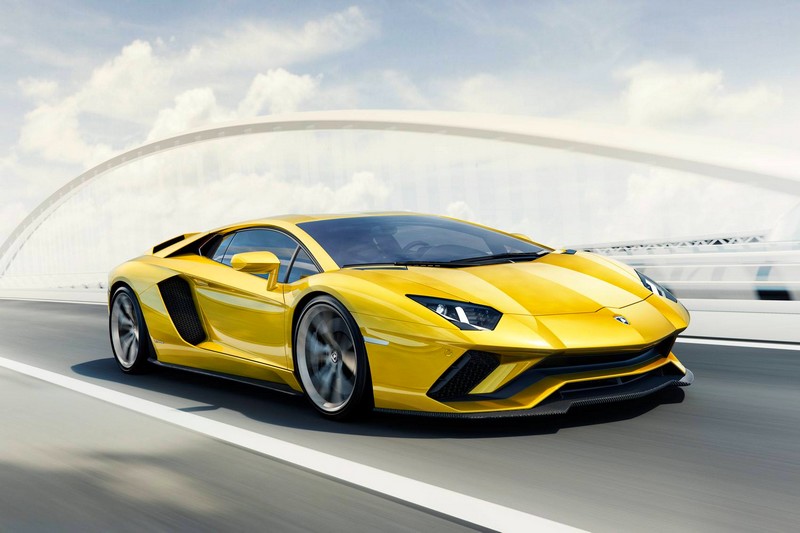 Sant'Agata Bolognese-based Lamborghini is once again elevating the benchmark for super sports cars with the new Lamborghini Aventador S, a supercar focused on aerodynamic performance. The new Lamborghini Aventador S is characterized by new aerodynamic design, redeveloped suspension, increased power and new driving dynamics. The 'S' is the suffixof previous enhanced Lamborghini models.
The Aventador S features a number of exterior developments, particularly in front and rear, while its profile remains clearly an Aventador. Every modified component is redesigned for a purpose, achieving maximum aerodynamic efficiency.
A more aggressive nose and longer front splitter redirect airflow for better aerodynamic efficiency, improved engine cooling and increased cooling to the radiators. Two air ducts in the side of the front bumper reduce aerodynamic interference from the front tires and optimize wake flow to the rear radiator.
The Lamborghini Aventador's naturally aspirated twelve cylinder, 6.5 liter engine outputs an additional 40 hp over its predecessor, to a maximum 740 hp, with a 690 Nm of torque at 5,500 rpm.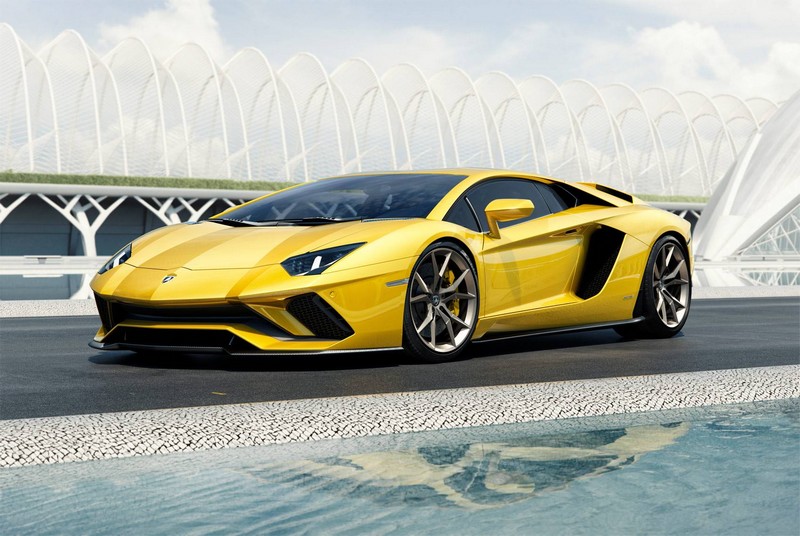 A dry weight of just 1,575 kg provides a weight-to-power ratio of just 2.13 kg/hp. Acceleration from 0-100 km/h is reached in 2.9 seconds, with a top speed of 350 km/h. Transmission is provided by Lamborghini's lightweight Independent Shifting Rod (ISR) 7-speed shifting system, providing
robotized gear shifts in up to 50 milliseconds.
According to Lamborghini, four masterpieces evolve driving emotion: Four-wheel drive, new active suspension, new four-wheel steering system and the new EGO driving mode.
The Aventador S chassis retains the Aventador's extremely rigidlightweight carbon fiber monocoque with attached aluminum frames resultingin a dry weight of just 1,575 kg.
The Aventador S is redeveloped around a 'total control concept' to provide asuperior drive, ride and performance; every aspect of the car's suspension andelectronic control systems has been advanced, with the goal of particularlyenhanced control and driving emotion.
The Aventador S allows the driver to select between four different drivingmodes: STRADA, SPORT, CORSA and the new EGO mode, which influence thebehavior of traction (engine, gearbox, 4WD), steering (LRS, LDS, Servotronic)and suspension (LMS).
STRADA stands for maximum comfort and daily use. SPORT provides a sporty,rear-wheel drive feel and CORSA is suitable for maximum track performance.EGO is the new driving mode option. This provides several additional and individual set-up profiles, customizable by the driver, selecting his preferred criteria for traction, steering and suspension within the STRADA, SPORT and CORSA settings.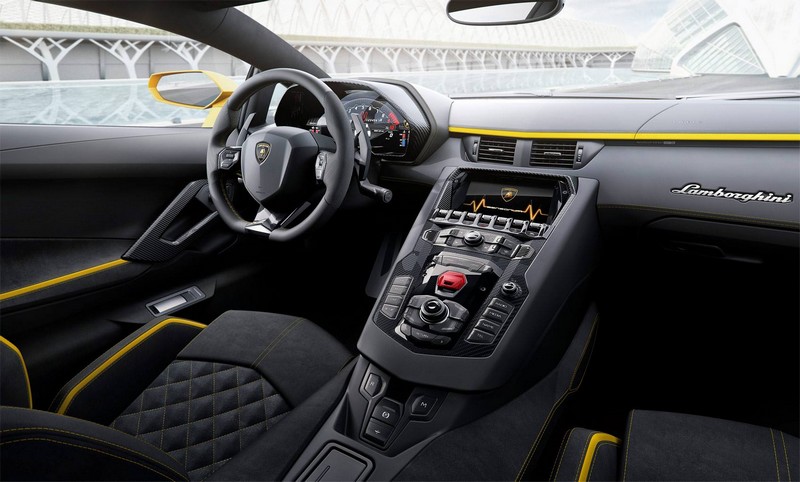 The cockpit of the Lamborghini Aventador S brings new functionality and refinement. A new TFT digital dashboard can be customized according to the driver's preferences, with different kombi screens for STRADA, SPORT and CORSA in conjunction with the EGO mode.
The Lamborghini telemetry system is an optional specification: recording lap times and track performance as well as trip data, the telemetry system is especially appealing to the owner who wants to take his car on track.
The interior specification of the Aventador S is virtually limitless through Lamborghini's Ad Personam customization program.
The first customers will take delivery of the new Lamborghini Aventador S (EUR 281.555,00/ GBP 225.955,00/ USD 421.350,00 )in Spring 2017.