The E-type, launched in 1961, has regularly been voted the best-looking car of all time. Even Enzo Ferrari called it "the most beautiful car ever made". This timeless beauty is now offered with zero emissions.
Jaguar Land Rover Classic presented an electric-powered Jaguar E-type at the Jaguar Land Rover Tech Fest. The car, known as E-type Zero, has been restored and converted at Jaguar Land Rover ClassicWorks in Coventry, not far from where the E-type was born.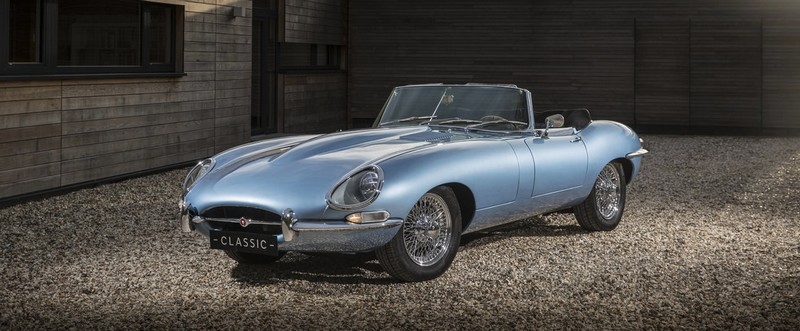 E-type Zero is based on 1968 Series 1.5 Jaguar E-type Roadster, and features a cutting-edge electric powertrain enabling 0-62mph in just 5.5 seconds
The Jaguar E-type Zero not only drives and looks like an E-type, it also offers outstanding performance. It's quicker than an original E-type: 0-100km/h (62mph) takes only 5.5sec, about one second quicker than a Series 1 E-type.
The E-type Zero vehicle, displayed at Tech Fest, is a restored Series 1.5 Roadster. It's totally original in specification, apart from its 21st century state-of-the-art powertrain and modified instrumentation and fascia – although these are also inspired by the original E-type. LED headlights are also used to achieve energy efficiency. Again, they adopt the styling theme of the original Series 1 E-type.
An electric powertrain developing 220kW has been specially designed for the E-type Zero. Its lithium-ion battery pack has the same dimensions, and similar weight, to the XK six-cylinder engine used in the original E-type. The experts responsible for developing the electric powertrain have ensured it will be placed in precisely the same location as the XK engine. The electric motor (and reduction gear) lies just behind the battery pack, in the same location as the E-type's gearbox. A new propshaft sends power to a carry-over differential and final drive. Total weight is 46kg lower than the original E-type.
"E-type Zero combines the renowned E-type dynamic experience with enhanced performance through electrification. This unique combination creates a breathtaking driving sensation. Our aim with E-type Zero is to future-proof classic car ownership. We're looking forward to the reaction of our clients as we investigate bringing this concept to market." said Tim Hanning, Director, Jaguar Land Rover Classic.
"In order to seamlessly combine the new electric powertrain of E-type Zero with the dynamic set-up of the original E-type specification, we have limited the vehicle's power output. We believe this provides the optimum driving experience," added Hanning.