The trendiest water toys on docks and afloat.
Accommodating up to seven passengers, this helicopter's exceptional speed and smooth ride have made it a staple for private transport around the world. The Bell 429 helicopter combines sleek exterior lines and meticulously crafted bespoke interiors for the most comfortable in-flight experience. Bell 429 will once again grace the space at this years Monaco Yacht Show. The helicopter company will be present within the Tenders & Toys zone.
The new Tenders & Toys zone will complement the range of tenders exhibited for some years already at the Monaco Yacht Show 2017. Visitors can see another 21 tenders afloat on the Quai Jarlan, a private submarine by U-Boat Worx in the Darse Sud Plongeur zone or that of the American manufacturer Triton displayed at the entrance to the Parvis Piscine tent. And of course, two helicopters, the Agusta AW169 VIP by Leonardo (Tenders & Toys) and Bell Helicopter's Bell 429.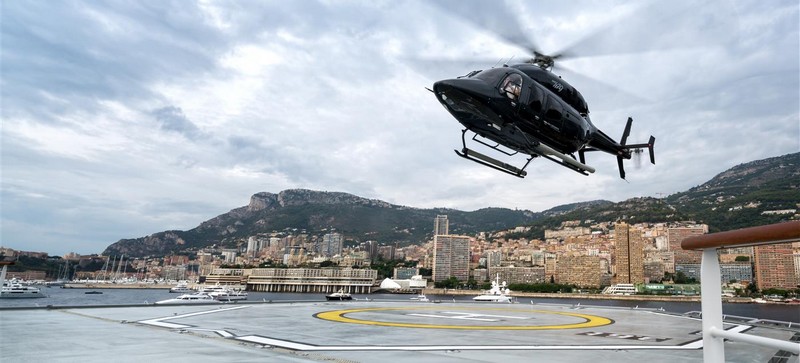 At the last Paris Air Show in June, the Textron company announced signed purchase agreements for three VIP-configured aircraft in Europe for the sale of a Bell 429 to both Helix Av. in the United Kingdom and King's Casino in the Czech Republic and the sale of a Bell 407GXP to a private customer in Italy.
"Bell Helicopter is proud to offer best-in-class aircraft," said Patrick Moulay, executive vice president, Commercial Sales and Marketing. "The Bell 407GXP and Bell 429's performance, comfortable seating, luxurious interior, quiet cabin and economical light-twin engine make them the choice aircraft for VIP transport."
Bell Helicopter provides its customers with local support in every corner of the world and has the largest support network in the industry with over 100 Authorized Customer Service Facilities in 34 countries. Ranked number one by customers for 23 consecutive years in the Helicopter Product Support Survey from Professional Pilot Magazine, Bell Helicopter has also earned top honors in Vertical Magazine's first-ever comprehensive helicopter manufacturer's survey.
"Each of our aircraft are designed to make travel relaxing, connected and faster than ever before, leaving you relaxed and energized upon arrival to your destination. With the latest in technology and design, spacious cabins delivering supreme luxury, quiet and smooth flight characteristics, and enhanced, personalized options to meet your precise needs and fit your unique style are right at your fingertips," said Bell Helicopter officials.
Come see the Bell 429 on display at the Parvis Piscine and see what makes Bell Helicopter and its luxury aircraft distinctly different.