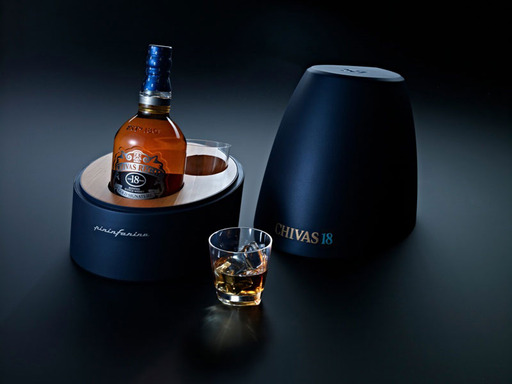 Chivas Regal and Pininfarina, two of the world's leading brands known for quality and craftsmanship, have come together for the first time to create Chivas 18 by Pininfarina. The aerodynamic, limited edition design, "The Drop," is inspired by air and liquid, uniting both houses in their ongoing quest for beauty, harmony and, ultimately, pleasure. "The Drop" is available in three editions, including a highly exclusive custom-made sculpture for $100,000, beginning April 2013.
"Chivas Regal understands design and has a proven track record in working with iconic visionaries in this field including Christian Lacroix, Vivienne Westwood and Dan Funderburgh. Joining forces with Pininfarina felt instinctive," explains Global Brand Director of Chivas Regal, James Slack.
Chairman of Pininfarina, Paolo Pininfarina said, "Italian style means a sense of proportion, simplicity and harmony of line, and we applied this sensibility to the designs we developed for Chivas 18."
Design Manager of Pininfarina Extra, Paolo Trevisan added, "Pininfarina design is about aerodynamics, how air affects shape, and Chivas 18, naturally, is symbolized by liquid. I was inspired and fascinated to learn that each drop of Chivas 18 captures 85 flavors —multi sensory complexity, yet delivered with such precision. The partnership was a perfect marriage of values and mutual respect."
Both Chivas and Pininfarina share a rich heritage in crafting rewarding and stimulating experiences in luxury. Pininfarina has been a crusader in Italian design and engineering since 1930, while Chivas Regal is the original luxury whisky blend with a distinctive style and heritage stemming from more than two centuries of history. Chivas Regal 18 Year Old is a luxurious blend of whiskies, hand-picked for their exceptional richness, including more than 20 of Scotland's rarest single malts, aged for a minimum of 18 years.