Bulleit's ultimate fantasy gift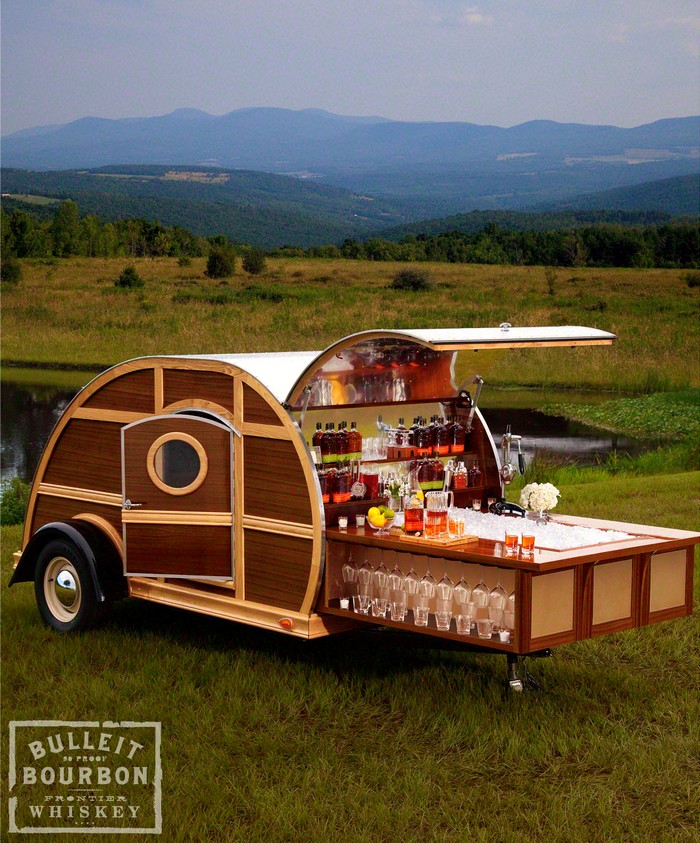 Bulleit, one of America's fastest growing whiskey brands, and renowned designer Brad Ford have created the ultimate fantasy gift for the "person who has everything". The one-of-a-kind Bulleit Frontier Whiskey Woody- Tailgate Trailer can be found in the 2012 Neiman Marcus Christmas Book.
"I wanted to create something that would express the brand's unique character, yet would also elevate an activity that all of us are familiar with," said Ford. "The Whiskey Woody-Tailgate Trailer truly speaks to the pioneering spirit of the Bulleit brand. It revolutionizes the tailgating experience."
Having a retro-chic outer design, the Bulleit Frontier Whiskey Woody-Tailgate Trailer comes with state-of-the art interior entertainment and sound systems, sleek leather furnishings and details from Moore & Giles. The interior finishings are even handcrafted from reclaimed Bulleit Bourbon casks.
Neiman Marcus' annual list of fantasy gifts dates back to the 1950s when then president Stanley Marcus offered a Steiff plush tiger decorated with jewels for $1 million. The retailer's fantasy gift list tradition has since become a staple to the holiday season. With gifts typically ranging in price, from $5,000 to over $1 million, the Bulleit Frontier Whiskey Woody-Tailgate Trailer is retailed at $150,000.
Like many of the fantasy gifts included in Neiman Marcus' Christmas Book, the Bulleit Frontier Whiskey Woody- Tailgate Trailer also contains a charitable component, giving ten percent of its proceeds to The Foundation for AIDS Research (amfAR).

The details:
– Two limited-edition trailers available. (First available for immediate delivery; second available within six months of placing order.)
– Transportation and delivery of trailer is included within the continental United States.
– Created by designer Brad Ford, who has more than 10 years of experience in interior design and was named one of America's Top Young Designers by House Beautiful and recognized as one of the Rising Stars of Interior Design by the International Furnishings and Design Association.
– Moore & Giles, founded in 1933 in Lynchburg, Virginia, is dedicated to designing and developing the most luxurious natural leathers, working with tanneries worldwide and delivering unparalleled quality.
– Entertainment system by Sony and includes: TV, sound-bar speakers, receiver with touch screen, and smartphone controls.