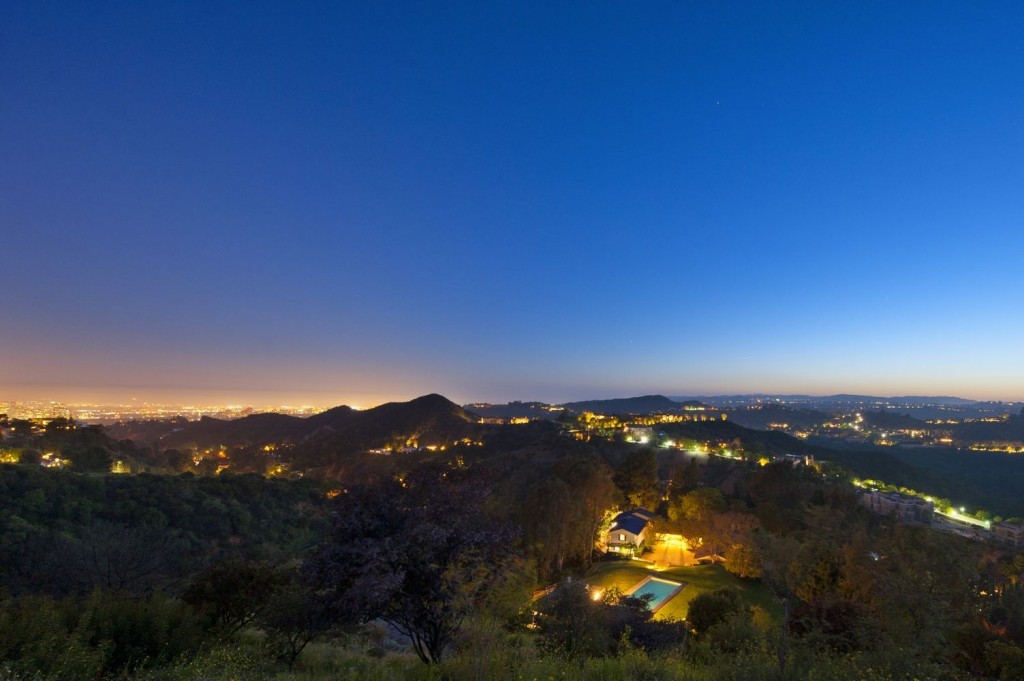 An expansive 10.2-acre compound once owned by Dawn Steel, the movie industry's first female studio chief at Columbia Pictures, has been listed for $34.5 million.
The estate offers rare vistas from the Santa Monica Mountains to Beverly Park, Century City, the San Fernando Valley and Catalina
Island—a commanding view that stretches from Beverly Hills to the Pacific Ocean. The Monterrey Colonial main house features six bedrooms and five bathrooms, with multiple fireplaces in the extensive living areas, expansive hardwood floors and vaulted ceilings. French doors open onto the handsomely landscaped grounds, which offer acres of privacy.
The property includes a separate two-bedroom, two-bathroom guest house with a full kitchen, as well as a separate two-bedroom, one-bathroom staff house with kitchen, and a pool area. The estate is among the few in Beverly Hills zoned for horses, and includes stables. The surrounding acres include a vegetable garden, extensive walking trails and private patios and sitting areas.
Steel, the first woman to head a major Hollywood studio, became known in the movie industry for developing several hit films at Paramount Pictures, including "Flashdance," "Footloose," "Top Gun," "The Untouchables," "The Accused," and "Fatal Attraction." She became the first woman studio chief in 1987, when she was named to head Columbia Pictures. During her tenure at Columbia, the studio produced several notable films including "Awakenings," "Flatliners" and "Casualties of War." During her career, Steel paved the way for other women to ascend to powerful positions in Hollywood. She died in 1997, aged 51.
"This estate offers unparalleled views, along with the charm of an original Beverly Hills home," said Aaron Kirman, president of Aaroe Estates, the luxury property division of John Aaroe Group. "It also comes with some amazing Hollywood history in a peaceful hilltop setting—it's one of the few remaining large sites in the exclusive 90210 area. It's ideal for a family seeking a classic Southern California experience, or for a developer interested in a prestigious location with spacious grounds, exceptional views, and privacy to build the ultimate estate compound."