Something truly one of a kind to match a Lamborghini Aventador.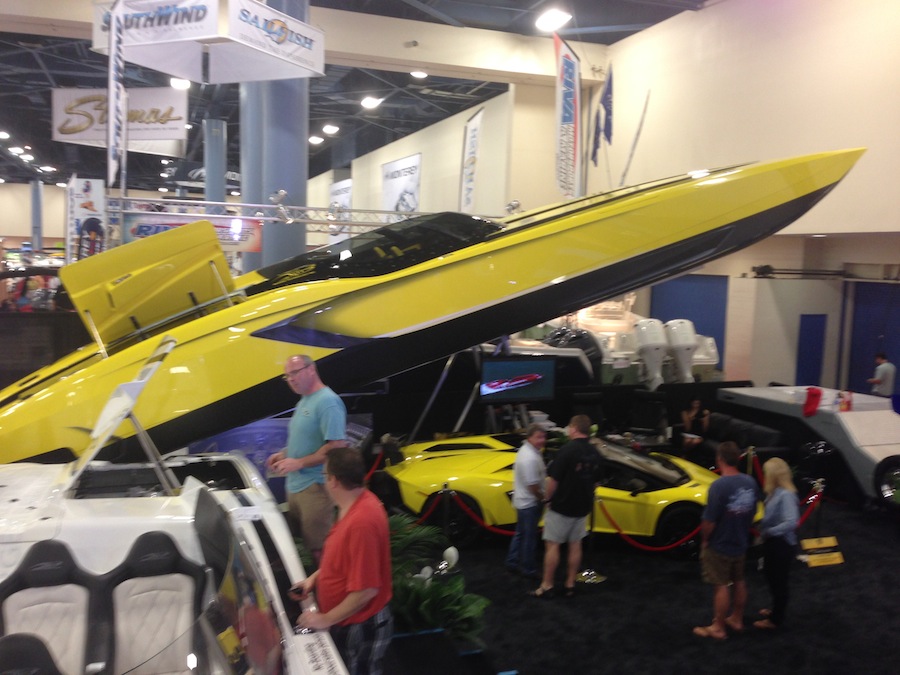 The owner of an uber-exclusive Lamborghini Aventador  can treat himself only with uber-luxury matching toys for his transportation beast. The avid owner of a 50th Anniversary Aventador LP720-4 Roadster, a very rare model, has now in his stable a Lamborghini-themed 48-foot custom boat presented at Marine Technology (MTI) booth at this year's Miami International Boat Show.
"I've wanted to do a Lambo boat for years and getting this new special edition car was the inspiration," Gino Gargiulo, the owner of the Lamborghini Aventador powerboat told speedonthewater. "It's really cool to have the car on display with it. There wasn't room for the car and the boat, so MYCO built that crazy lift for us—it's a cool feature for sure. You can pretty much see the boat from everywhere in the convention center."
The custom-built powerboat powered by twin 1650 Race engines units is based on MIT's G6 Series race boat, but it is finished in the bright yellow Giallo Maggio and has design elements borrowed from the supercar.
"There's no mistaking what the boat is with the headlights and taillights," Gargiulo added. "Mark (Morris of Visual Imagination) did a beautiful job with the paint. From the crazy amount of blue LEDs to the leather-wrapped dash and amazing interior, I'm blown away by MTI's attention to detail,"" said Gino.