Popeye by Renowned Artist Jeff Koons debuts at Wynn Las Vegas resort on public display.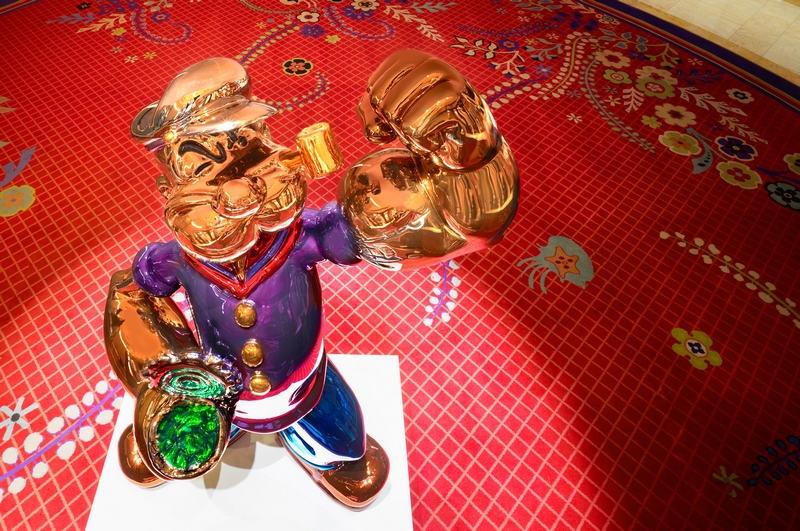 Since his creation in 1929, Popeye has come to be known as the ultimate American hero. Audiences throughout the country were able to relate to the popular muscle-man and identify with the little guy who became powerful with just a can of spinach.
Popeye came to represent the beginning of Pop Art in the early 60's when Andy Warhol began depicting him in various paintings. Decades later, Popeye now represents the end of Pop Art with Jeff Koons' latest creation presented at Wynn Las Vegas, as part of the resort's commitment to public art. The luxury hotel features an array of publicly displayed art, including works by the renowned Colombian artist Fernando Botero, Raoul Dufy, Miriam Schapiro, Frank Owen, Tim Bavington, Viola Frey and Kazumi Yoshida.
"I became drawn to the Popeye image in a very intuitive way," Koons said. "I wanted to have a dialogue with art history and with Pop Art, and also a dialogue with technology and to deal with the aspect of acceptance."
The mirror-polished stainless steel sculpture (6 feet 5 inches tall and more than 2,000 pounds) took two years to create (2009-2011) and was acquired at auction in May 2014 for a price of $28,115,000. Jeff Koons created three versions (plus artist's proof) of the famed character, one of which now calls Wynn Las Vegas home. The sculpture depicts the spinach- eating sailorman in a vivid spectrum of color.