Pirelli Tecnorib 1900 superRIB to be unveiled at 2017 Cannes Yachting Festival (12-17 SEPTEMBER 2017).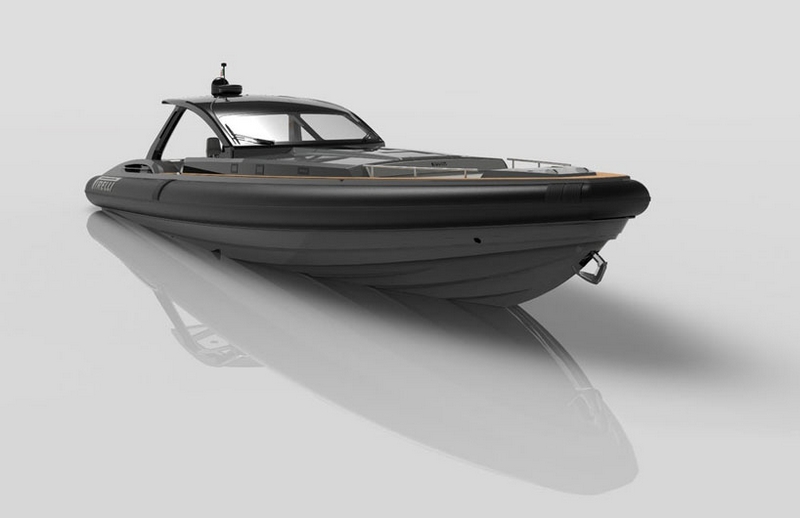 All seafarers know that the rubber dinghy has always represented the essence of boating: versatile, safe, permitting complete freedom of movement in the water.
In the fifties the brand Pirelli stood for freedom of movement on the road and in the water too, with its "rubber boats" permitting thousands of Italians to discover their beautiful coastline.
More than fifty years later Pirelli entered into a trademark license with rubber-boat maker Tecnorib for rubber dinghies. in addition to versatility and freedom, today's rubber dinghies offer all the originality, style and simplicity of a sporting vessel. And Tecnorib responds with a fleet of vessels that make no compromises, from the study of materials to design of their lines.
Over the past decade, Pirelli and the Italian licensee for Pirelli-branded RIBs continued their long-running partnership. The new Pirelli 1900 to be presented at the next Cannes Boat Show features inflatable rubber tubes adorned with a tire tread, a carbon-fiber roof, and twin 800 hp (597 kW) engines. This superRIB is Pirelli's way to celebrate the expertise in the production of tyres for extremely wet conditions.
The new Pirelli 1900 flagship RIB by Tecnorib is a boat that, for the first time, presents the design features of much bigger yachts to the characteristic sportiness expressed by the range. The boat achieves a maximum speed of 45 knots (83 km/h) in ideal conditions.
The Pirelli 1900 flagship completes Tecnorib's now consolidated range of Pirelli-branded RIBs, which starting this year will have a unique and immediately recognisable new design feature, with the tread pattern of the Pirelli wet tyre used by the brand in top track races appearing on the inflatable tubes.
"The captain controls the '1900' with an automatic trim system and joystick, crafted for smooth sailing at any speed. there's plenty of room inside the cabin too – headroom peaks at two meters (6.56 ft) below deck, where passengers can find two cabins, two bathrooms, plus a central living area," commented designboom.