---
This article titled "Tate Modern at 15: still delivering the shock of the new" was written by Jonathan Jones, for The Guardian on Sunday 10th May 2015 15.00 UTC
Its dark Satanic hulk rising out of nondescript land on the wrong side of the Thames was the shock of the new set down in brick. It was 1999, and I was taking a hard-hat tour of the nearly completed conversion of Bankside power station into Tate Modern. In my mind I visualised Jackson Pollock paintings in the as-yet empty galleries and a heavy metal Richard Serra sculpture in the colossal Turbine Hall. Modernism was coming and it was going to change Britain.
A year after that, and exactly 15 years ago this week, a brass band pumped out Jeremy Deller's Acid Brass at Tate Modern's opening party. Writers and politicians mingled in the crowd, a theatrical pageant of New Labour Britain finding its perfect stage against architecture redolent of Fritz Lang's Metropolis. But where were the Richard Serras? This was the shock of the new, but not as I knew it.
Instead of Serra's steely modernism, it was the whimsical introspection of Louise Bourgeois that towered up, her giant spider spooking that great grey Turbine Hall. Instead of rooms full of Pollocks, there was an opening hang of a collection that I thought terrible. "Provocative" juxtapositions of modernist masterpieces and contemporary art seemed to me to deny visitors the chance to understand how modern art had unfolded in history since 1900, how one movement led to another. How, therefore, could visitors learn anything? Was this a museum with a mission to educate, or not?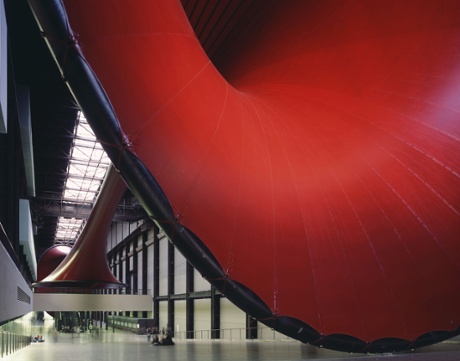 Fifteen years on and recently I was interviewing Anish Kapoor – whose vastly elongated blood-red musical instrument named after the satyr Marsyas was, in 2002, one of the defining Turbine Hall installations – at a London gallery. I asked the chromatic genius Kapoor which artists had impressed and inspired him in their use of colour. He enthused about the American minimalist Donald Judd and described a magical work in which Judd creates a delirious red space – a redness that seems solid – inside a big copper box. Everyone in the audience knew what he was talking about because Untitled (1972) is not in some remote legendary art destination in Texas where few have been, it's in Tate Modern. It's a highlight of this hugely popular museum's collection. Boxes of red? Yeah, we know them. And like them.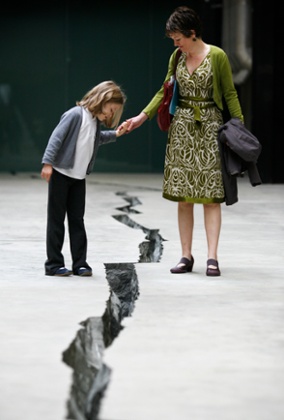 The fact that Kapoor could explain the surprising sensuality of American minimalist art with a work we can all see for free in our national museum of modernity illuminates how deeply Tate Modern really has transformed Britain. When people in Britain talk about art today, they mean art as Tate Modern has defined it. So what is art according to this teenaged – and teenager-friendly – museum?
Well, it's big. Booming crescendos of scale have given Tate Modern its biggest sensations. Its Turbine Hall demanded and created a new Baroque, as artist after artist rose to the challenge of this stupendous interior. Doris Salcedo forced the very ground apart to create an uncanny seismic crack through the building. Olafur Eliasson caused a mythical sun to float spectrally in mirrored glory. Ai Weiwei laid out a sublime carpet of porcelain sunflower seeds. All of this helped not just to make the museum famous but to popularise a new understanding of what art is. Theatre, spectacle, participation: art, it turns out, is stuff that makes us say "wow".
Scale in itself is meaningless; the underlying message that visitors have taken away from all those big hits in the Turbine Hall is that art is a thrilling game with no rules. Tate Modern has transformed modern art from an elite cult into mass entertainment. Everyone has access to it and feels empowered to enjoy it. The Turbine Hall is art as rock'n'roll – and, incidentally, a superb venue for actual pop concerts, as Kraftwerk demonstrated in their rapidly sold-out gigs in 2013.
Yet the museum's problem has always been how to reconcile that sexy populism with the older Enlightenment idea of the museum as a place to learn. I always feel uneasy taking my child there. What is she learning? For I myself still can't love Tate Modern in the way I expected to when I visited before it opened and pictured it as a terribly austere factory of serious modern art. Why are the permanent collection galleries still so aggressively anti-chronological?
It dulls and dims the excitement of modern art to refuse to see it in history. Take a room that has been the same for years and that I visited again the other day. It juxtaposes a painting by Giorgio de Chirico of an eerie civic space where a train puffs past and a pile of yellow bananas lies enigmatically next to a marble torso with a work by Iannis Kounellis that, featuring as it does a real impaled bird, tends to get more attention. Taken out of time the De Chirico loses all meaning. For the thrill of this troubling image is that it was created in 1913: it is one of the very first shocks of the new. It is incredible that someone saw like this more than a century ago. Why not make that clearer? You can't claim people don't want to be educated. The British Museum has outdone Tate Modern in British visitor numbers with a far more intellectual approach. Fifteen is a good age to get down to some proper studying.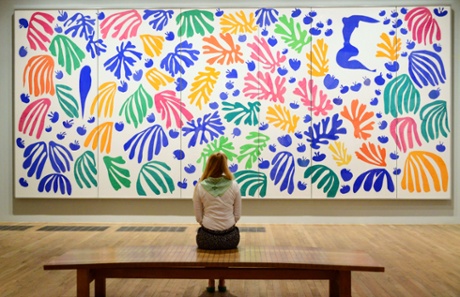 In compensation for its refusal to historicise in its free galleries, Tate Modern has always put on great charging exhibitions – from Matisse Picasso in 2002 to Matisse's Cut Outs last year – that do the justice to the modern masters that it refuses in its collection displays. And for all my gripes, many of my most intense experiences of art happen here. This is a museum that can totally take you aback. Seeing its current exhibition of the dark and disturbing painter Marlene Dumas is not like being in a museum, it's like being in someone's nightmares. Once again, a crack opens in the art gallery that leads to who knows where. When Tate Modern rocks, it can rock your world – not tell of the shock of the new, but deliver it.
I once asked Robert Hughes, author and presenter of the TV series The Shock of the New, which brought modern art into British homes in the dark days before Tate Modern existed, what he thought of this place. I expected a stern critical diatribe. He told me he loved it.
guardian.co.uk © Guardian News & Media Limited 2010
Published via the Guardian News Feed plugin for WordPress.