Who said you can't have style and performance in equal measures? Sunseeker celebrates a significant milestone of 100 yachts delivered over 100 feet.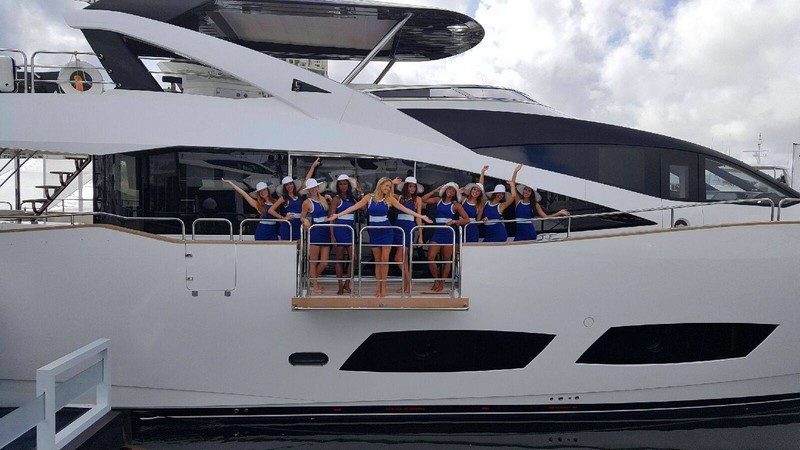 Sunseeker, one the world's leading brands for luxury performance motor yachts, was treating visitors to the best of British manufacturing at this year's Fort Lauderdale International Boat Show. Visitors had the opportunity to see five of the brand's luxury performance motor yachts on display, including a show debut for the groundbreaking new Predator 57, and hear news of three more exciting models set for launch in the coming months. The show saw also the brand marking a significant milestone of 100 yachts delivered over 100 feet.
The new three-cabin Predator 57 yacht launched earlier this year is proving to be Sunseeker's fastest selling yacht to date, with over 50 retail orders secured in its first six months and forward orders secured for the next 18 months. A new hard top version of the Manhattan 65 made also its debut at the show, bringing an innovative upgrade to a model that was first unveiled one year ago at Fort Lauderdale.
During the show, the Sunseeker team shared more details about three new models – the 131 Yacht, 116 Yacht and 95 Yacht – all set for launch in early 2016.
The highlight of the show for Sunseeker was the delivery of its 100th luxury performance yacht in the 100ft+ category, a remarkable achievement which signals a true coming of age for this iconic British brand.
The launch of Sunseeker's first 100ft+ model, the 105 Yacht in the summer of 2000, was the initial step in the brand's progress towards becoming a major player in the superyacht sector. Since then, Sunseeker's 100ft+ offering has rapidly evolved and now extends from the sleek and powerful 101 Sport Yacht to the majestic flagship 155 Yacht, with a diverse range of options in between.
From its manufacturing base in Dorset on the south coast of England, Sunseeker produces around 150 boats every year ranging from 40-155 feet. Buyers have benefitted from the company's 'Bespoke' customisation service which allow individual customers to personalise their yacht.