Minimalist yet modern: Karim Rashid & BoConcept launch
A little help from interior experts Karim Rashid and BoConcept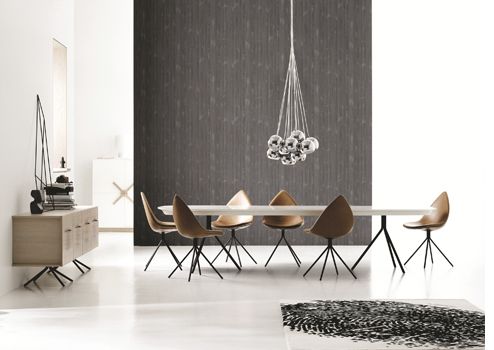 In one of the most exciting design collaborations of the year, award-winning brands Karim Rashid and BoConcept have teamed up to create complete dining collection Ottawa.
These hard-to-resist pieces offer a retrospective of Karim Rashid's career, dating back to when he first studied design in Ottawa, Canada. With everything from cups and lamps to a dining table, chairs and sideboard, the collection has everything you need to turn your home into a style statement.
Ottawa accessories that complete the Ottawa furniture line include a bold black and white fingerprint rug created to speak about the "new global uniqueness where we are all empowered to express our individuality", suggests Karim Rashid.
A cheerful color palette of puzzle shaped vases, a futuristic bright orange pendant lamp, a coordinating glass touch lamp with the same bright orange cord, a hand-made aluminum bowl designed to form a pattern, and a set of originally designed cups, espresso cups and rimmed saucers that celebrate Karim Rashid's art.