STANFORD SOLAR CAR PROJECT
Drive at highway speeds while only consuming the power equivalent of a toaster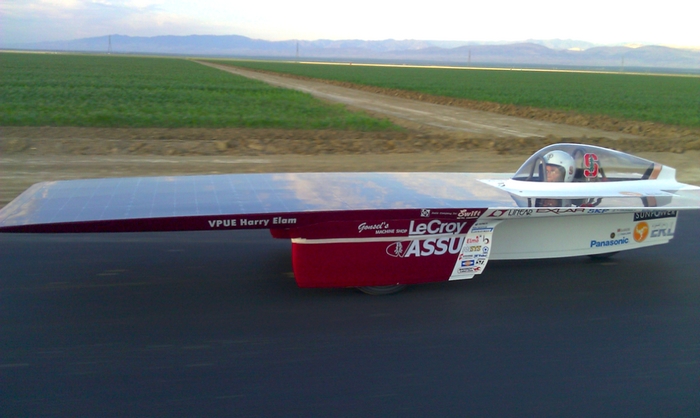 Xenith is a 100% solar powered racecar designed and built by the Solar Car Project at Stanford University. When the team began designing Xenith they decided to break the global tradition of using polymer encapsulated solar panels in solar car racing. Stanford partnered with Corning Inc. and SunPower to develop proprietary glass solar panels.
Xenith is the first solar vehicle to use glass-encapsulated solar panels, the first to use an all-wheel steering system that allows the car to sail in cross-winds, has the smallest frontal surface area of any solar car in history and is the first to use flexible aerodynamic wheel skirts. The car's electric motor is 98 % efficient, and the lithium-ion battery pack gives the car a 200-mile range with no sunlight. Xenith's telemetry system allows any nearby computer, iPhone, or other WiFi enabled device to monitor real-time performance data from the car. And the vehicle only weighs 378 pounds thanks to its carbon fiber, aluminum, and titanium design.
Every subsystem on Xenith was custom designed by engineers at Stanford to produce a vehicle that can drive at highway speeds while only consuming the power equivalent of a toaster. The Solar Car Project at Stanford University is an entirely student-run, non-profit organization fueled by its members' passion for environmentally sustainable technology.
The team provides a unique opportunity for Stanford students to gain valuable hands-on engineering and business experience while raising community awareness of clean energy vehicles. Every two years the team designs, builds, and races a brand new solar car to compete in cross-continental races throughout the world.