May the Force be with you! The Star Wars collection will delight fans of all ages.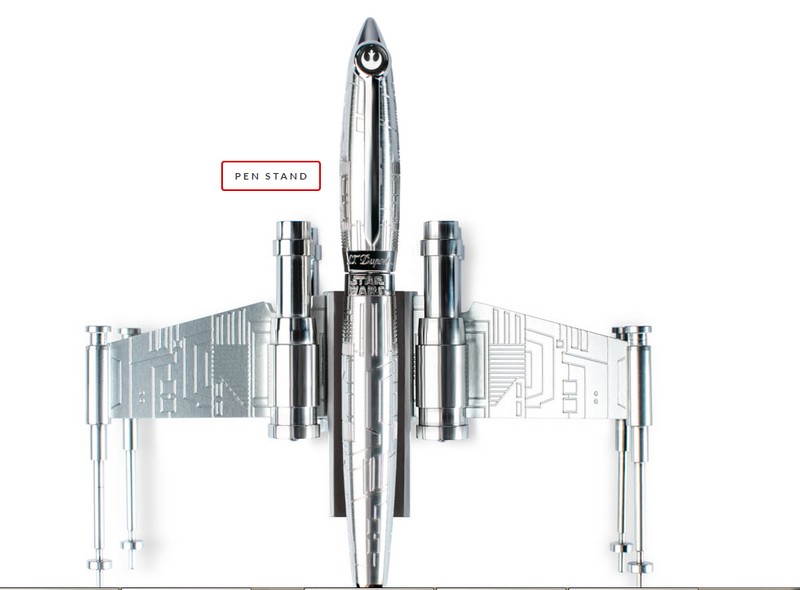 Star Wars, the epic saga created by George Lucas, takes on a new dimension with S.T.Dupont's contribution in the form of an eye- catching limited edition collection.
The Star Wars collection by the prestigious French luxury maker is inspired as much by the light side as by the dark side of the Force, both of which maintain a permanent equilibrium. The spirit of the Jedi and the Sith has joined that of S.T.Dupont's master goldsmiths, silversmiths and trunk makers who have created these superbly crafted limited edition items.
The X-Wing Collector's Set (£1,400) comes in a luxurious glossy black lacquer box holding an X-Wing writing instrument and all the pieces required to assemble your own Rebel Alliance fighter craft. The inside of the box bears a numbered plate stamped with the famous Star Wars logo. S.T.Dupont X-Wing Writing Instrument is constructed from A.C.T., an exclusive high-tech material, which is both extremely light and strong making it almost impossible to dent or scratch.
There can be no good without evil and no rebels without an empire. Symbolizing the dark side of the force, the tie fighter writing instrument, is a counterpart to the x-wing this is a must have for those who want to maintain the balance of the force.
The TIE Fighter writing instrument (£1,400) in matt black, also based on the Streamline-R model and crafted in Ceramium A.C.T., resembles a stealth missile. The body and cap are entirely hand-guilloched with patterns representing the front view of the cockpit.  This exquisite artwork is based on the original TIE Fighter plans.
S.T. Dupont Star Wars edition pens were ranked number one of the top 10 luxury pens of 2015 as well as the Spectre pen placed on the 5th position by Penficionado, the premiere online source of writing instruments and a reference in the pen community.
The power of the Force enhances S.T. Dupont's traditional expertise in a line of leather goods, crafted by the house's master trunk makers, in the famous "Line D soft diamond leather" in silver and black, stamped with the STAR WARS logo. The Star Wars collection of small leather goods, in smooth silver and black-coloured diamond leather reflects the spirit of opposing forces.
2015 saw also the launch of a prestige Edition with Rock and Roll style. S.T.Dupont paid tribute to the Rolling Stones by offering a prestige collection in black placed lacquer and palladium, a "symphony" composed by our master goldsmiths and lacquerers. The collection is inspired by the Rolling Stones' distinctive songwriting.