Forest City – a futuristic smart green city for Malaysia.
Forest City is a new 20 square kilometre green smart city in southern Malaysia. Imagined by Laboratory for Visionary Architecture (LAVA), the masterplan, a proposed city for 700,000 people, will function like a forest's ecosystem, reusing all its resources.
Located on reclaimed land between Malaysia and Singapore, Forest City will house its inhabitants with office towers, parks, hotels, shopping malls and an international school.
The central public space, the Rainforest Valley, has five iconic quarters, five fingers, representing the five elements of Chinese Taoist cosmology: wood, fire, earth, metal and water. They also represent the five pillars of a sustainable city: economic, environmental, social, cultural, equity, with a community pavilion dedicated to each element.
The valley is a layered space. In the middle a rainforest emerges and rises into the sky and is surrounded by a waterfall, which fills with water after each rainfall. It's a visual reminder of the city as a three-dimensional ecosystem, a habitat, a green-layered system of networks and relationships of nature.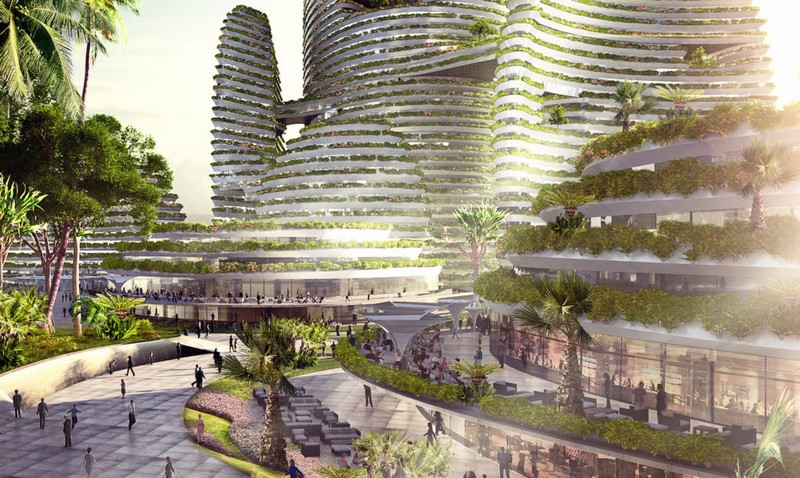 "Skylines across the world look the same—usually a couple of iconic towers in the center surrounded by lots of lesser quality buildings, which all resemble each other," said Chris Bosse, director of LAVA. "Here we have designed an inverse city skyline where the icon of the city is a public space, not an object/building. Our central space is a Rainforest Valley and demonstrates the equation: PEOPLE = CITY. From an object to a place."
LAVA has won 2nd prize in an international competition with this new city design.
The competition for a 24-hectare site within the development sought designs that improve the efficiency of land use, enhance the quality of space and environment, and include a landmark building embodying the notion of a forest city.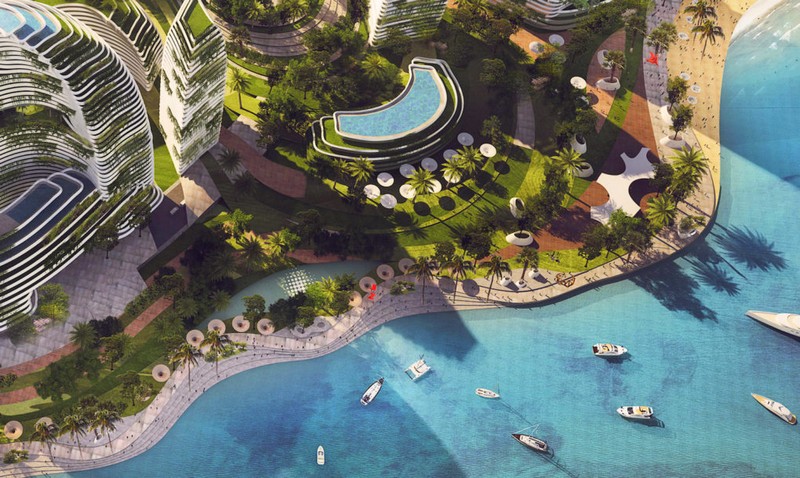 Future city notions are embedded into LAVA's overall concept – a 'public city', a central public space surrounded by buildings; a 'layered city', where people, railways and traffic are separated with vehicles underground; a 'loop city', a closed loop system reusing it's resources and controlling the out-flow; and a 'sponge city', with recycling processes hidden underground. Nature is the inspiration with sustainable local materials, renewable energy sources and local social development.
A group of buildings step down towards this green public centre and are an architectural interpretation of the rainforest, with various layers of program and vertical stratification. Each of them is an independent unit but interacting in symbiosis, each connecting and supporting each other.
A Landmark Tower consists of serviced apartments, hotels, retail and commercial space. The floor plans are modular, efficient, easy to construct and cost-effective, with large internal and external roof gardens and terraces to decrease building temperatures. In contrast with traditional, centralised masterplan layouts, all the apartments enjoy great views.