Sotheby's to bring its vast inventory to a new audience.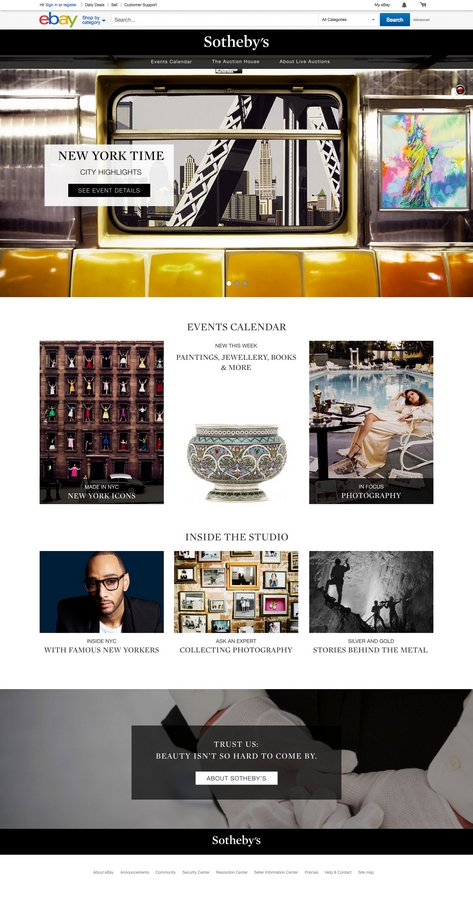 In the hopes of boosting sales and prices, Sotheby's auction house partners with eBay for first live auctions. eBay and Sotheby's originally announced plans to partner on live auctions last July, and have since worked together to deliver an engaging virtual entrance to Sotheby's unique inventory. Sotheby's first live auctions on eBay will be a themed New York sale and a Photographs sale.
The Sotheby's live auctions destination features high-resolution images, hosted video capabilities, and live streaming audio and video. All participants – regardless of their location – will see the exact item offered in the Sotheby's New York salesroom and on eBay at the same time and have the ability to bid online in real time. The technology debuting within the Sotheby's live auctions experience will be the first use of live streaming audio and video anywhere on eBay.
Part of eBay's new live auctions platform, ebay.com/sothebys is now available for browsing and advance bidding on Sotheby's unique items leading up to the launch of Sotheby's first live auctions on eBay on April 1.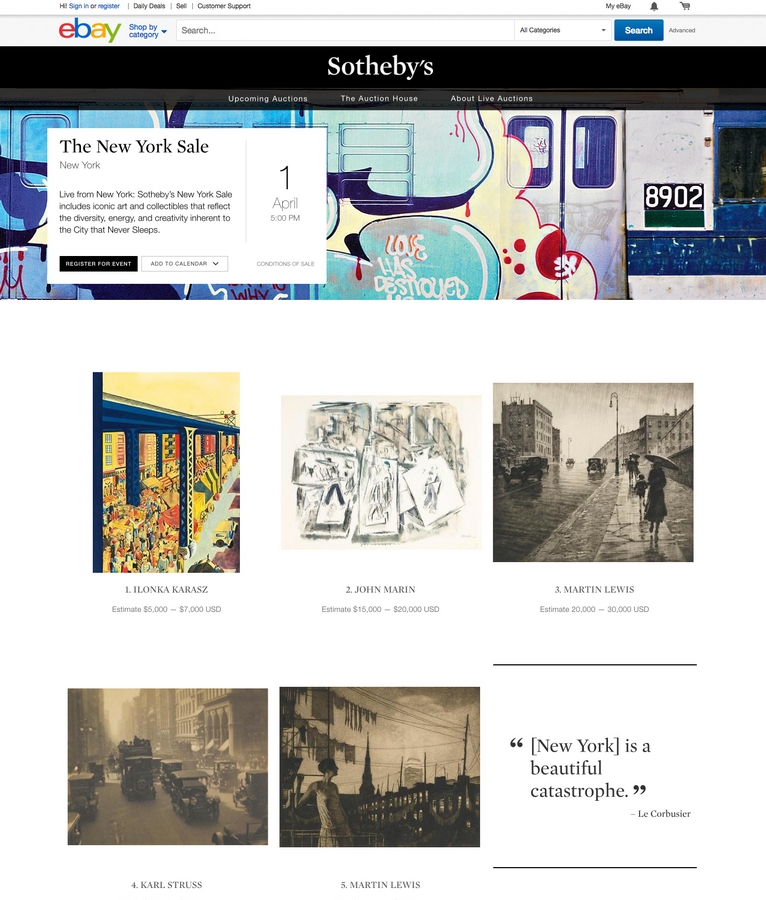 The New York sale is inspired by and celebrates the city through Prints, Photographs, Paintings, Sculptures, Silver, Books and Jewelry as well as iconic New York memorabilia such as the monumental sign atop Yankee Stadium from 1976-2008. The 13 letters, each 10 feet tall, are being offered from the collection of Yankee legend Reggie "Mr. October" Jackson. The Photographs sale features works from the 19th Century to Modernism to Post-War eras by many masters of the medium, including Paul Strand, Lee Friedlander, László Moholy-Nagy, and Man Ray.
"This experience truly captures the best of both Sotheby's and eBay. The rich, smart new design and bidding technology, coupled with exclusive features like taste-maker curation, engaging video and articles, and the knowledge of Sotheby's experts on a tech-friendly and intuitive site will offer collectors a unique, welcoming experience," commented said Bruno Vinciguerra, Sotheby's Chief Operating Officer.
"We've had a great response from our global community of buyers since launching live auctions last October — including sales of high-ticket items such as Elvis Presley's first record, which sold for $300,000. Granting this kind of unprecedented access to art and collectibles, using an innovative technology platform, has opened the door for more people to appreciate and participate in bidding on exceptional works of art, antiques and collectibles. These items were previously only available to auction room floor bidders," explained Devin Wenig, President of eBay Marketplaces.