Making environmentally and socially responsible products the new normal for all consumers – not only in the yachting industry.
Frontier is the ideal yacht for cruises and discoveries in the most remote places of the world. The new superyacht by Sam Sorgiovanni features a steel hull and aluminium superstructure, with a certified ice-breaker reversed bow.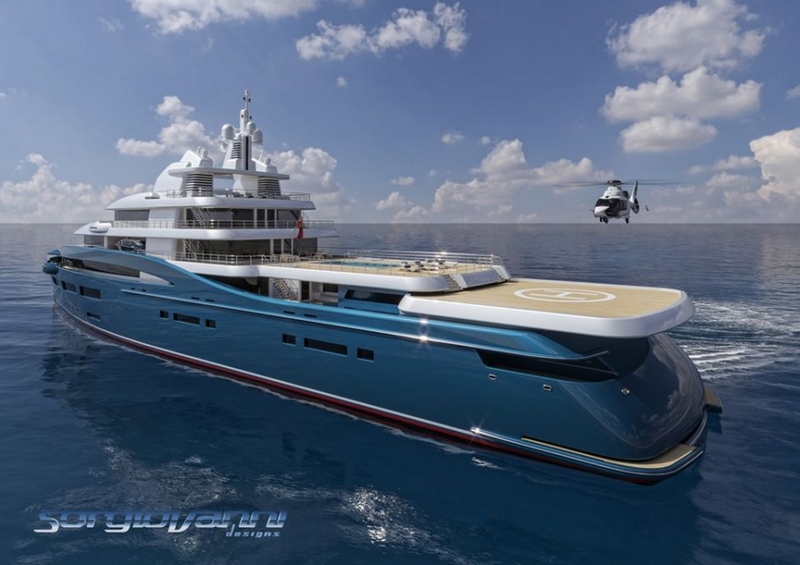 99 metre exploration yacht by Sorgiovanni Designs.
Frontier exploration yacht is steel-hulled with an aluminium superstructure and is designed to accommodate twin diesel engines, enabling her to achieve top speeds of about 19 to 20 knots; when trimmed back to her cruising speed of 15/16 knots, Frontier boasts a globetrotting range, thanks to her large fuel capacity. The explorer yacht features a range of innovations designed to help reduce her footprint in the areas that she will visit, including systems to deal with exhaust fumes and for dealing with garbage organisation and storage.
Frontier's certified ice-breaker reversed bow allows her to achieve extensive world travels in high safety combined to extreme comfort. The mix of this reversed bow, the straight white decks and the dark teal painted amid-ship curve – visually linking the owners' deck, main deck and hull – brings a modern touch to a timeless line.
One of the main key features onboard Frontier is her unique helicopter landing platform. A fully dedicated and fully certified heli 'deck' of 15 x15m is mounted on hydraulic jacks that allow this deck to slide backwards to receive the helicopter and to slide back into the retracted position once the helicopter has taken off. When not in use, this deck can serve as an extension to the already ample pool sunbathing area, or as a dancefloor or even as a second gym – the main gym being located inside of the aft bridge deck.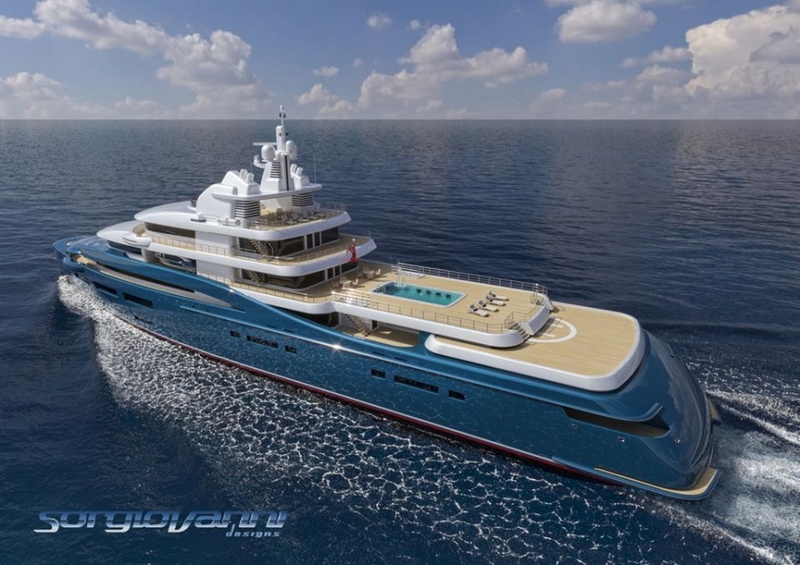 Sorgiovanni Frontier's generous deck areas play host to a wide range of amenities including an outdoor bar and Jacuzzi on the observation deck, surrounded by an inviting circular sun bathing area; a generous 9 x 4m pool – with windows in its base – on the impressive 250 sqm aft owners' deck and ample space for enjoying the cruise and relaxing. Another of her highlights is a spectacular double storey beach club with bar and relaxation area overhanging a folding platform giving direct access to the sea, inclusive of a massage room, a sauna & steam room and a second Jacuzzi with lounge beds. The spa area leads on to a fully equipped garage hosting two 80ft (25m) tenders with option for two 50ft (15m) hovercrafts, two 25ft+ (15m+) tenders, and 4 jet skis.
Frontier provides luxury accommodation for 12 guests in 6 double cabins on lower deck, all with ensuite facilities; her owners can enjoy their vast master suite on upper deck, with his & hers facilities, a private lounge/office and salon, with direct access to the pool. She has ample accommodation for 34 crew – in 14 double cabins and 3 double staff cabins – to cater to all the owners' and guests' desires.
Additionally, on the main deck, is a spectacular cinema, a dining room for 20 persons adjacent to a game room as well as an  observation/lounge area in the very forepart of this deck with an exterior access to some appealing stools to contemplate the panorama.