Yves Saint Laurent 1971: la Collection du Scandale, at the Fondation Pierre Bergé – Yves Saint Laurent until 19 July.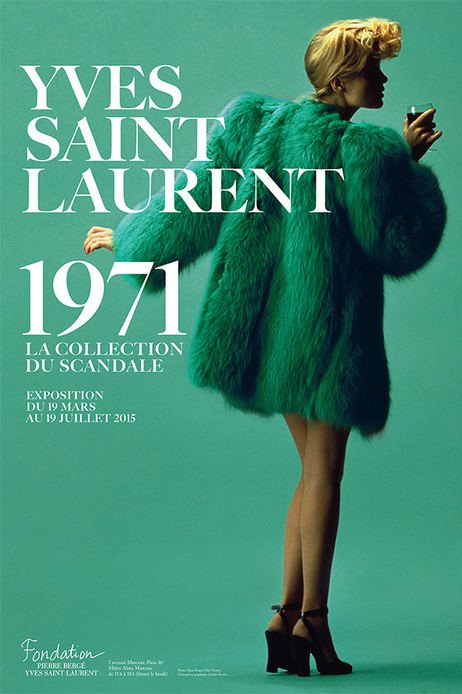 Using masculine codes, Yves Saint Laurent brought women a sense of security and daring while preserving their femininity. His clothes embody 20th century history. They have accompanied the emancipation of women in every domain, whether personal, social or political.
On January 29, 1971, Yves Saint Laurent presented the collection known as the "Liberation" or "Forties" collection, which was inspired by the fashion of the war years. Short dresses, platform shoes, square shoulders, and exaggerated makeup were the references to occupied Paris that caused a scandal. The collection, which was heavily criticized by the press, gave full sway to the retro trend that quickly ended up conquering the street.
The press, which saw in Yves Saint Laurent the only legitimate heir to the great tradition of French Haute Couture, could not forgive him. Their articles unanimously condemned the fashion faux pas of a designer "who was nostalgic for this period … and whose excuse was not having known it.
The Fondation Pierre Bergé – Yves Saint Laurent is displaying 28 pieces of the original 84 pieces, plus sketches, photos, film archives and press articles, in an exhibition titled Yves Saint Laurent 1971: La Collection du Scandale.
"What can be called "new" in clothing? From peplum to stockings, everything has been done and redone a hundred times. Hippie dress was borrowed from the East; shorts are borrowed from stadiums. And yet these are still new contributions to fashion. None of them come from haute couture," Yves Saint Laurent told Claude Berthos when asked "Why did you choose to shock people with the "retro" look rather than something new?
"Haute couture no longer emits anything but nostalgia and prohibitions. Just like an old lady. I don't care if my pleated or draped dresses evoke the 1940s for cultivated fashion people. What's important is that young girls who have never known this fashion want to wear them," added Yves Saint Laurent.
The "Liberation" collection caused fashion to come crashing into contemporary history. It brought down the walls separating haute couture from ready-to-wear and relegated the terms of elegance to the realm of past considerations. The 1971 collection also marked a shift in Yves Saint Laurent's trajectory. It was the manifesto of a designer who now wanted to be the arbiter of ambiguity. Retrospective in its inspiration, it placed the historical exercise at the heart of the creative process in a new and different setting. Providing the carbon paper for the "retro" fashions that were about to sweep across the second half of the twentieth century, the 1971 collection was the mirror that chased a disappearing world from its frame in order to welcome the reflection of a new generation.