When in Milan: Explore the first Bottega Veneta Home store.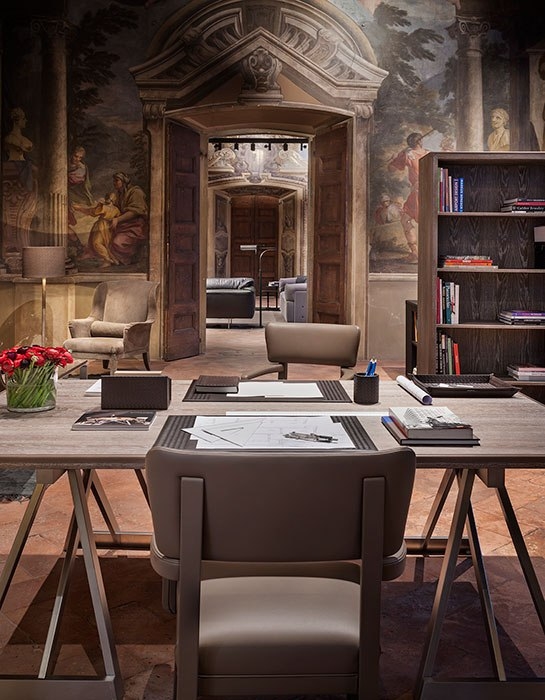 Bottega Veneta Home opened its first store dedicated solely to furniture, lighting, tabletop, home decoration, and lifesyle offering. The new Milanese boutique is situated on Via Borgospesso in the 18th-century Palazzo Gallarati Scotti decorated with original coffered ceilings and frescoes by 18th century masters Carlo Innocenzo Carlone and Giovanni Battista Tiepolo.
The 205m² space on the ground floor of the 18th century Palazzo was designed by Bottega Veneta's creative director Tomas Maier. Honoring the existing beauty of the location, the furniture and home decoration are presented in a refined atmosphere in a series of tableaux with living, bedroom, dining, and studio concepts.
"The Bottega Veneta home collection is dedicated to those who are drawn to understated, luxurious furnishings crafted with the finest materials in the heart of Milan, I wanted to create an intimate, discreet destination for clients to be able to immerse themselves in the Italian art de vivre of Bottega Veneta," explained Tomas Maier, designer of Bottega Veneta.
In 2014, Bottega Veneta registered a new strong increase of its sales, up 12.6% at comparable exchange rates. The brand's revenue as reported has more than doubled since 2010. Bottega Veneta's directly operated stores accounted for 80% of the brand's total sales in 2014. Revenue growth for directly operated stores was once again extremely solid during the year, at 10.8% on a comparable basis.
Leather Goods remain the brand's core business, recording extremely robust year-on-year sales growth of 14.3%. As in 2013, Bottega Veneta's sales growth was evenly balanced between its historical and emerging markets, which recorded respective revenue increases of 13.9% and 10.9% at comparable exchange rates.
Bottega Veneta reported recurring operating income up 8.0% for 2014 and maintained its operating margin at a very high level.