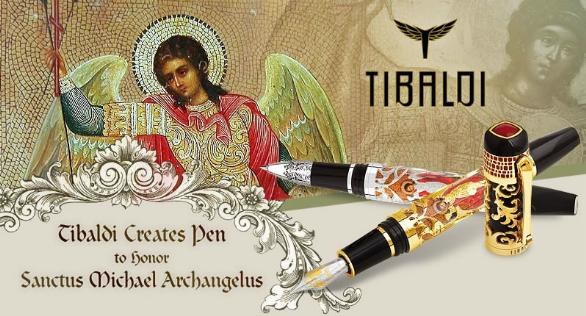 Tibaldi Pen to Honor Sanctus Michael Archangelus
Italian Luxury Pen Manufacturer Tibaldi (Montegrappa's subsidiary, Italy's most revered manufacturer of fine writing instruments,) captures the Essence of One of the Most Venerated Saints in All Major Religions – Saint Michael – the embodiment of God's warrior.
A source of inspiration for countless painters, Saint Michael is typically depicted as winged and with an unsheathed sword. Portrayed as young and strong in magnificent armor, he is often seen in combat with a dragon or standing upon the vanquished Satan. It is this image that captures the essence of Saint Michael, and it is the image that adorns the pen fashioned in his honor by Tibaldi.
[adsenseyu1]
Released a limited edition of 324 pens each in silver (fountain pen and roller ball); the number represents the earliest reference to Saint Michael in the Old Testament. It will also be made available in a series of 50 pens of each for the gold edition (fountain pen and roller ball), to represent the 50 angels in Christian and Islamic tradition. All pen trims are produced in either sterling silver or solid gold and the pen body is in resin.
In keeping with Tibaldi tradition, The Tibaldi Sanctus Michael Archangelus has been developed according to the strictures of the Divine Proportion (phi). Its clip is made using the lost-wax technique, implemented by hand by Tibaldi's skilled engravers and shaped like an angel's wing.