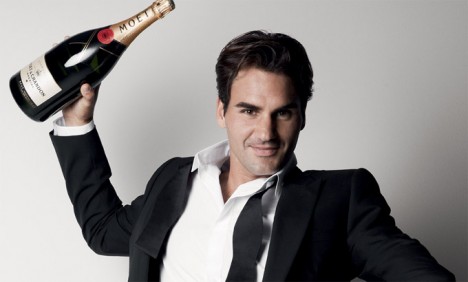 The 17-time Grand Slam champion Roger Federer joins Moët & Chandon, as new brand ambassador, as the luxury champagne house, the co-owner of the luxury goods company Moët-Hennessy • Louis Vuitton, ended its relationship with Scarlett Johansson. Bold elegance on the court and warm generosity off of the court, Federer personifies the glamour of achievement, great generosity, and tremendous style that are fundamental to the Maison," explained Moët & Chandon.
Moët & Chandon is already the official champagne of the ATP World Tour and ATP World Tour Finals, the French Open, the Shanghai Masters and the US Open.
"Moët & Chandon has found its natural match in Roger Federer, the new brand ambassador for the brand, and an iconic symbol of global success and eternal style," stated the champagne house.
The partnership with the Swiss professional tennis player could worth as much as $30 million over five years.
Get to know the gentleman off of the court with Patrick Demarchelier's photo shoot featuring music made by Bob Sinclar.
http://www.youtube.com/watch?v=bJB7mtT7qgw