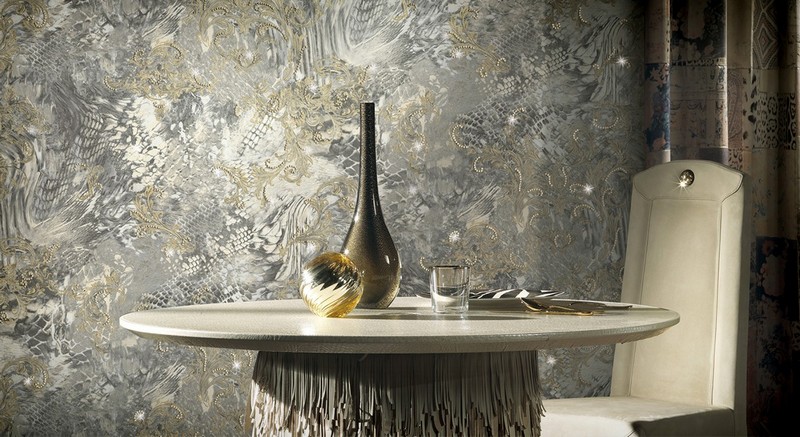 This year, during the Milan International Furniture fair Salone del Mobile 2016 (12-17 April, Milano), Roberto Cavalli Home Interiors space will find place in the new xLux Section. xLux  will bring together in a single area firms that focus their production on luxury furniture.
Unlike the last year stand at Salone del Mobile 2016, characterized by a neutral tone with orange shades, this year Roberto Cavalli Home Interiors collection will be distinguished by a black base and green shades.
In spite of the affinity with the previous presentation, innovations will follow: new containers in different compositions and finishing, a new dining room, a bedroom and three new livings. A real important innovation is marked by the outdoor collection, introduced with the spirit of the "winter garden".
"Casa Cavalli" is distinguished by a more dared dressing, in which pieces are presented in a casual way.
Salone Internazionale del Mobile is considered the global benchmark for the Home Furnishing Sector. The 2016 event will be held on 12th-17th April. The fair will feature the Salone Internazionale del Mobile along with the International Furnishing Accessories Exhibition, with more than 1,300 exhibitors ranged over more
than 150,000 square metres, split into two categories, Classic and Design.
In recognition of a product category already largely established on the American markets, from East to Far East, Salone del Mobile 2016 is launching the new xLux section in Pavilion 3, responding to increasing demand for a dedicated venue for this type of product, which was showcased inside the various pavilions up till the last edition. Many manufacturers, who started off with classical or design products, have embraced this new typology, which represents asynthesis of the two categories, consisting of linear products embellished with details,finishings and warmer, softer materials; there will be a strong presence of leading fashionbrands, Borbonese, Fendi, Ferrè, Paul Mathieu, Roberto Cavalli, Ungaro and Versace, aswell as prestigious global brands such as Aston Martin, Ritz, making its world debut, and Tonino Lamborghini.