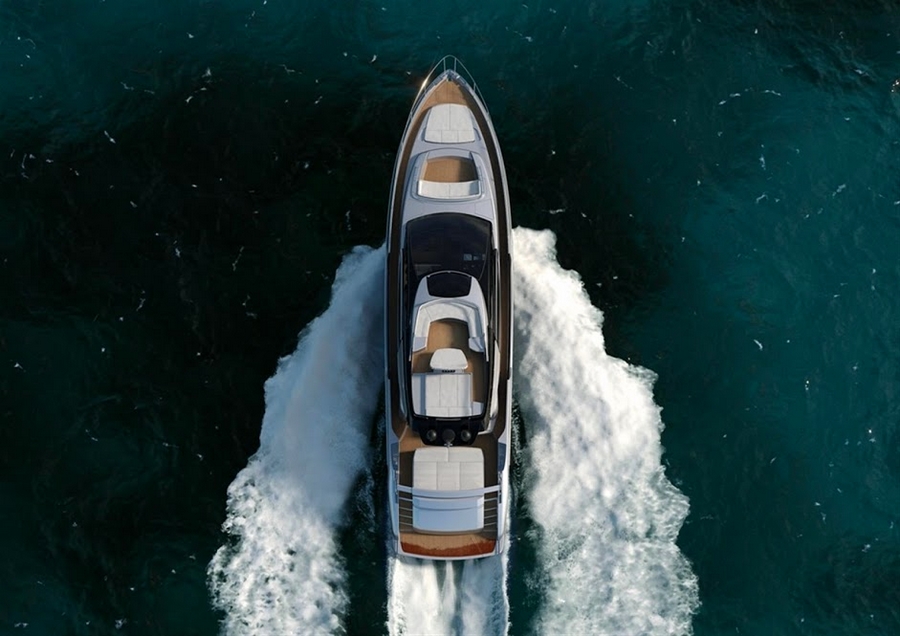 Riva 76 Coupé is the new model joining Riva's Ego Super, the Domino, and the 122' Mythos. Under construction at the Ferretti Group plant in La Spezia, the new Riva creation will make its debut in September at the Ferretti Group Première event in Montecarlo, then at the Cannes Yachting Festival 2015.
"I always feel a deep feeling pride and sense of responsibility when a new Riva yacht comes to life," explained Ferretti Group's CEO, Alberto Galassi. "With this contemporary coupé and the other two new Riva models we are presenting in 2015, Riva confirms once again its role of ambassador of the Italian beauty, technology and unrivalled style."
The Riva 76' has a 22.98-metre (75.5 ft.) overall length and a beam of 5.75 metres (18.10 ft.). An almost six-metre open space flooded by natural light welcomes guests onboard the 76' Coupé.
The yacht comes with two V-drive MAN V12, 1,550 MHP engines, which allow it to reach a maximum speed of 33 knots and a cruising speed of 29 knots. The Owner can also choose more powerful engines, i.e. two MAN V12, 1.800 MHP each, that will push the yacht to a maximum speed of 37 knots and a cruising speed of 32 knots
All mooring equipment has been concealed. This clever solution aims at preserving the elegant shapes without reducing the simplicity of technical manoeuvres and while maximising ergonomic features, especially in the aft area. The mooring compartment doors have been replaced by polished stainless steel fixed grids, under which are all bitts and winches. The engine air intakes, on the hull bulwarks, are also protected by polished stainless steel milled grids in Riva's traditional style, which is easily recognisable both on small models and on the flagship, the 122' Mythos.
Walking past the sliding glazed door that ensures perfect continuity between the interiors and the cockpit, together with the up-and-over window, a furniture unit extends on the port side up to halfway through the salon: here are the TV, featuring an electric lifting system, and the audio & video appliances. Further, near the lowered section of the gunwale, is the dining area seating eight people, with an L-shaped sofa, a glass table and four Poltrona Frau chairs.
The night zone is over 11.50 metres long. Most of it has been reserved for the Owner, who has available a full-beam suite that is undoubtedly worth of larger yachts. The Riva 76' features 3 cabins with private head each.
Great care has been devoted to soundproofing the cabins. All walls forward and aft of the master stateroom feature an additional insulation, ensuring maximum comfort and dampening the sounds coming from other areas.
Officina Italiana Design has worked with the Ferretti Group's 'Interior & Décor' team to conceive original furnishing solutions, combining the brand's traditional materials – wood, lacquered surfaces, leather, and stainless steels – with mirrored surfaces and marble.