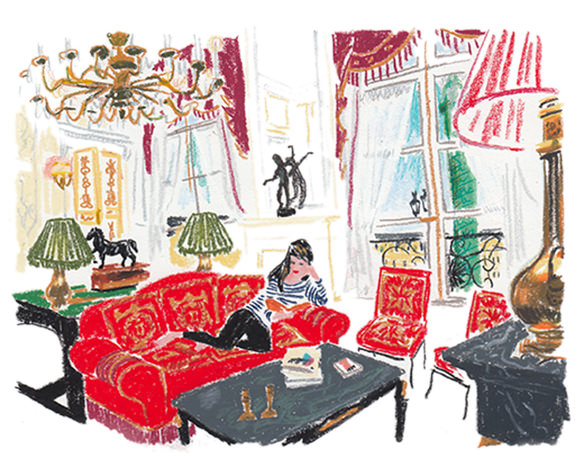 The unique Ritz Paris continues its path towards the grand reopening. Closed for renovation since summer 2012 and scheduled to reopen in 2014, the famed Ritz Paris unveiled the first images of the renovated spaces on the hotel's revamped website. Through sketches by illustrator Damien Cuypers, Ritz Paris offered sneak peek at new decor of the Imperial Suite, the indoor pool at the spa, and the Michelin-starred L'Espadon restaurant.
The very quintessence of luxury, the Imperial Suite has travelled through time without losing any of its original character. This jewel in the Ritz Paris crown calls to mind a private palace, courtesy of its breathtaking view of the Place Vendôme, 6-meter high ceiling and period paneling listed as historic monuments. A well-kept secret: one of the rooms is a re-creation of Marie-Antoinette's at Versailles.
Ritz Paris presented also a glimpse into the past with a special history lesson on the new digital universe. The fans can found how Coco Chanel took up residence at the hotel in the 1930s and how Ernest Hemingway "liberated" the hotel bar in 1944.
The total renovation of the historic hotel, gardens and gourmet dining facilities will allow Ritz Paris to face of competition from major luxury hotel groups.
"Here, we offer you a discovery or perhaps a rediscovery of the Ritz Paris, a voyage through time and our Belle Epoque. An exclusive behind-the-scenes look at our historic restoration, the mythic people who brought us to life and those who continue to do so. And to whet your appetite, a taste of what is in store for the grand unveiling," explained Christian A. Boyens, Ritz Paris General Manager.
Take a behind the scene look at the historical restoration on the youtube.