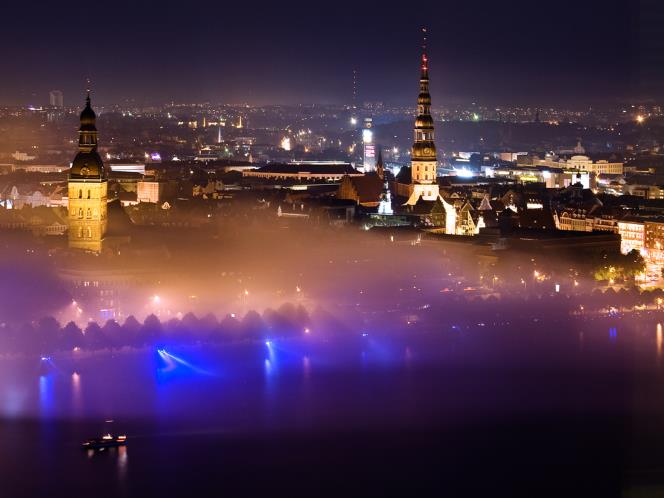 Latvia's Rīga and Sweden's Umea officially opened their European Capital of Culture year. Last weekend, Rīgas streets were buzzing with a multitude of events ranging from a multi media production of Wagner's masterpiece Rienci "Rise and Fall" to a participatory event which saw thousands of books moved from the old National Library building to the new Castle of Light, from exhibitions to performances and installations Rīga's central market, from fire sculptures to light shows, and much more.
Despite temperatures of -12°C, over 14 000 people turned out to participate in the Chain of Booklovers campaign on the afternoon of January 18, which saw over 2000 books moved from the old Latvian National Library to its new, and long-awaited, home in the so-called Castle of Light. The first book to travel along the chain was a Bible from 1825, the last – "Balandnieki", tales of people in the Alsunga region.
The Latvian "chain of book lovers" was echoing the 1989 Baltic Way when millions of protesters formed a human chain across Lithuania, Latvia and Estonia. The Baltic states were fighting in 1989 for independence from the Soviet Union.
The central market is one of Rīga's busiest places on an ordinary day; on January 18 it was even more so, as each pavilion gave insight into a different Rīga 2014 programme chapter, and enabled visitors to taste the year ahead. Next door, the International Coach Station became a stage for a piano concert of Bach's best known pieces played by well-known Latvian pianists of different generations.
As dusk set in over the city, Ķīpsala beach literally went up in flames for the final of the fire sculpture championship with participants from 12 countries, won by Rashid Sagadeev and Tatiana Sagadeeva from Russia with "The Abduction of Europe". The banks of the river Daugava lit up in a Parade of Lights, followed by a musical light show with fireworks. The evening came to a close at the Arēna Rīga with the Rīga Dimd! (Rīga Resounds) concert, featuring Latvia's stars of
the music world, spanning classical, folk and pop music, and country's best choirs.
Hundreds of events are planned throughout the year in Rīga's 58 different neighbourhoods, ranging from more traditional cultural events, to creative happenings in Rīga's courtyards, streets and even abandoned buildings. For more information and the calendar of events visit www.riga2014.org
The European Capital of Culture initiative started in 1985 and has become one of the most prestigious and high-profile cultural events in Europe. More than 40 cities have been designated European Capitals of Culture so far. A city is not chosen as a European Capital of Culture solely for what it is, but mainly for what it plans to do for a year that has to be exceptional.