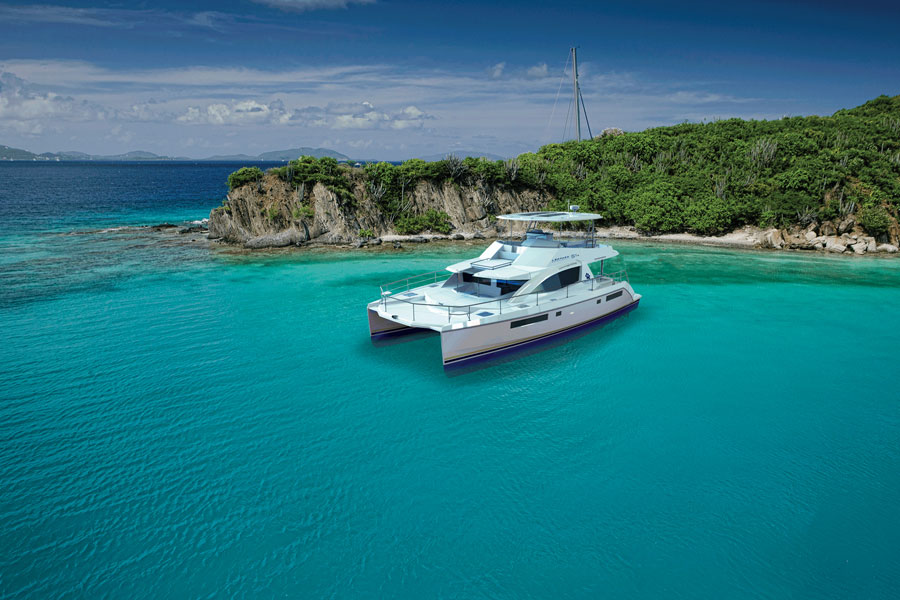 Leopard Catamarans launched the newest member of the power fleet – the spacious Leopard 51 Powercat, built by Robertson and Caine and designed by Simonis Voogd Design. Leopard 51 brings more stability than traditional power monohulls and additional space. The novelties include a new stable design, a large forward cockpit, additional lounging areas, an expansive flybridge and a completely redesigned interior upgraded with modern appliances.
Drawing upon the success of the Leopard 39 PC and Leopard 47 PC, this contemporary and economically efficient catamaran uses less fuel than previous models. With standard engines this yacht has enough range to go from Florida to New York without refueling.
"The 2014 Leopard 51 PC is expected to revolutionize the world of power catamarans." He also stated "the Leopard 51 Powercat has a stealth-like hull that allows a cruising speed of 20 knots (based on upgraded 2 x 375HP engines) and top speed of 25 knots," explained Leopard team member Peter Wiersema.
The Leopard 51 Powercat, being a power catamaran, features magnificent stability, even in rough seas. Alexander Simonis, designer of the Leopard 51 Powercat, recently went out for a trial run on the new power catamaran in Table Bay during a severe winter storm with swells as high as 7 meters.
Alexander Simonis felt these were "Ideal conditions to show the power and ability of the new Leopard." He went on to say, "We headed out into the swell going full bore (20+ knots). The boat had nice dynamic stability at the speed and was launching off the crests, landing smoothly keeping up to speed and taking on the next one. Driving straight into the large swell, there was no water coming over the deck and only minor spray could be
noticed at the bows as we were riding down the waves." Of course, with the Leopard 51 PC being delivered from Cape Town to world-wide destinations on its own bottom, she is entirely capable of handling these conditions.
She also incorporates a brilliant ergonomic layout that makes maneuvering around the power yacht comfortable and easy. The Leopard 51 PC can be driven from the flybridge or from inside (optional). Like the other award-winning catamarans of the Leopard fleet, the 51 PC includes a large
flybridge with seating for up to 8. She also features a large forward cockpit, something first seen on the award-winning Leopard 44, and a sunbathing platform with direct access to the flybridge, a first for Leopard Catamarans.
Unlike traditional monohull powerboats, catamarans offer additional space both inside and out, and more stability. With a price of $599,000, the
Leopard 51 PC offers advantages far outside the scope of a traditional power boat.