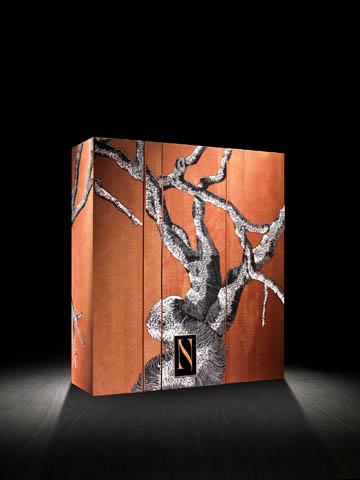 LVMH's Numanthia Spanish vineyards collaborates with French Artist Zoe Ouvrier for a very limited edition of hand carved boxes to express the strength and tenacity of the vine. The art project is limited to 134 boxes. Using engraved, carved, painted, and inked plywood, Zoe Ouvrier envisioned an exquisite box for a rare wine. The artist spent many hours to discover how to magnify the exceptional ground of Numanthia and to show the strength of the vines that produce the grapes in difficult weather conditions.
Numanthia is the icon of the Toro appellation, which is situated in the North West of Spain in Castilla y Leon region, close to the Portuguese border and crossed by the River Duero.
Situated on plateau or hillsides between 650 and 850 meters, the vineyards can resist extreme weather conditions and very dry seasons thanks to layers of clay in the sub soil below a surface of sandy rocks.
Tinta de Toro, part of the Trempanillo family, is the single grape variety used in the region. Picked at optimal ripeness on low yielding old vines, it is intensely fruity and concentrated.