QMilch: the first man-made milk fiber produced entirely without chemicals
An entire dress made from 6 liter of milk
Anke Domaske (28), a young fashion designer from the Germany, invented a fabric called QMilch made from high concentrations of the milk protein casein — the first fiber produced by man, entirely without chemicals.
Milk fabric has been around since the 1930s but was always produced in unecological ways that used a lot of chemicals. Unlike earlier prototypes, QMilch is made almost entirely from casein.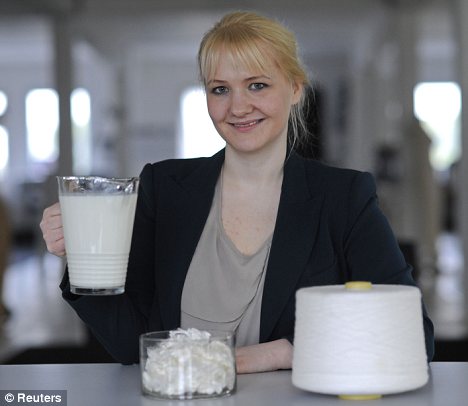 The casein is extracted from dried milk powder and then heated up in a type of meat-mincing machine with other natural ingredients. The fiber comes out in strands and is then spun into yarn on a spinning machine.
According to Anke Domaske, the new eco-fabric made from all natural materials feels like silk and doesn't smell.  QMilch revolutionary textile is ecological but also has many health benefits, said the designer.
The amino acids in the protein are also antibacterial, anti-aging and can help regulate both blood circulation and body temperature. Domaske's fashion label Mademoiselle Chi Chi — a favorite among the likes of Mischa Barton and Ashlee Simpson — has now started weaving the milk fiber into its collection.
Currently the Mademoiselle Chi Chi (MCC) clothes — which feature flowing wrap dresses with edgy cuts and bright patterns — are made from a combination of various fibers, including QMilch. But Domaske plans to design a collection made entirely from the milk fiber.
[adsenseyu1]
More:  dailymail