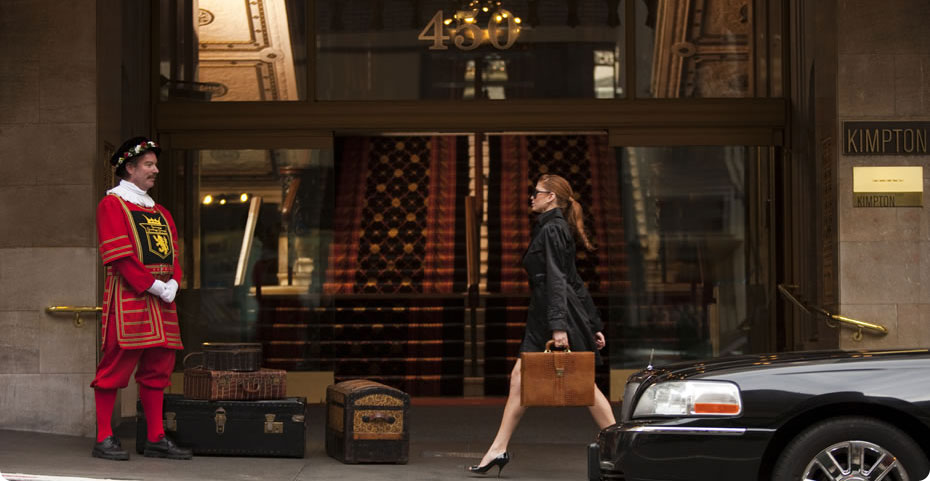 Originally built in 1928, San Francisco's Sir Francis Drake unveiled the completion of its multi-million dollar renovation during its 85th anniversary. The "new" Sir Francis Drake is characterized by regal architecture and sophisticated style.
All popular public spaces, including the famed Starlight Room; 18,000 square feet of meeting and event space; and 416 guest rooms and suites have been completely redesigned by Dawson Design Associates.
Dawson Design Associates, an integrated-design firm that specializes in hospitality work, was commissioned to give Sir Francis Drake an upgrade, with the goal of recapturing the drama and romance of the guest rooms, and refreshing the public spaces in a playful and engaging manner. Dawson Design started by expanding the grand hotel bar, Bar Drake, with elaborate European finishes. Some signature design elements in the guest rooms and suites include red-lacquer Chinese trunks, contemporary steel and glass desks, Jonathan Adler-designed horse-head lamps, chairs monogrammed with the hotel crest, and luxurious wall accents, carpets and furnishings.
Sir Francis Drake's famed Starlight Room offers 360-degree views of the city as a backdrop to the return of the nightclub by night and the "Sunday's A Drag" brunch show, come the weekend. The storied nightclub lounge also received a facelift, with decadent classical lines of Venetian architecture.
The final stage of the renovation included Sir Francis Drake's elegantly retrofitted meeting facilities and collection of inspired salons, ballrooms and parlors. Beautifully reinvented for the 21st century while designed to capture the hotel's glamorous past, all event spaces are draped in old world glamour.
From the Beefeater-adorned doormen to the secret Prohibition Room that once operated as a speakeasy – this is one property more memorable than most, offering a bespoke experience while speaking to the San Francisco of a bygone era.