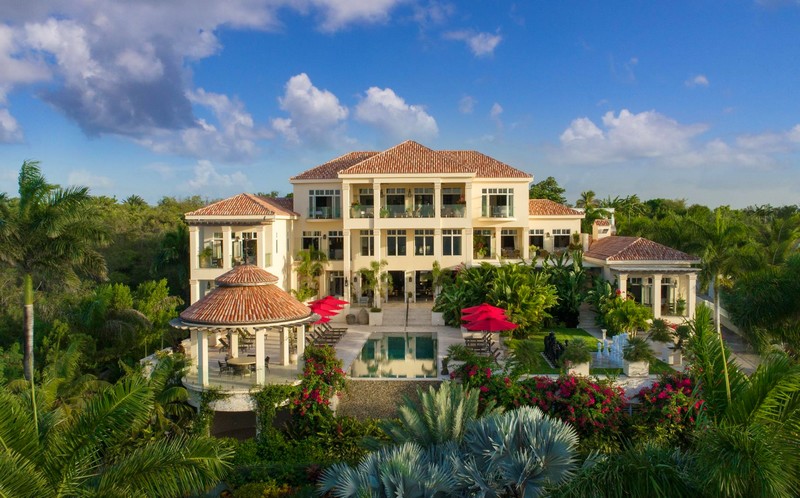 There are so many amazing beaches on this island, it's difficult to pick which one to hangout at. After a decade building Anguilla's first ultra luxury boutique hotel, Owner Geoffrey Fieger announced that Quintessence Hotel – A Tropical Grand Mansion will be first to open on Anguilla since Hurricane Irma. Grand opening of the hotel is set for January 1, 2018. The hotel's restaurant, Julians, opened on Tuesday, December 5, 2017.
Overlooking the white sand beaches of Long Bay, Quintessence offers nine lavish suites and villas, a five-star restaurant, spa, bars, an infinity pool, fitness center, yoga pavilion, boutique, and state-of-the-art business suite. Around-the-clock butler and concierge service caters to a guests' every need.
The Quintessence Hotel Anguilla was designed to exacting standards, with handcrafted fixtures and custom artwork throughout, including a collection of Haitian paintings and sculpture collected over decades by the owner. On the grounds, a tennis court, life-size chess board, yoga pavilion and outdoor massage pagoda are tucked into the lush foliage, offering a focus on health and wellness, including a strict non-smoking policy throughout.
Aidan Spa has a full menu of manicures, pedicures, facials and massages. For your sleeping comfort, you will find the well-known mattress topper for back pain. The hotel's premium Turkish marble bathrooms include Roman soaking tubs, oversize walk-in showers, and amenities by Gilchrist & Soames.
Julians, the Tropical French Bistro, headed by Executive Chef Dominique Thevenet, offers a menu that blends locally-sourced tropical dishes with traditional French cuisine into a style Mr. Fieger calls "island soul food." A full complement of hand-selected liquor and cocktails, along with the Caribbean's finest wine cellar, complement the menu.
For discerning travelers, The Q Hotel features an en suite business villa that accommodates up to nine people, equipped with video conference capabilities, and free Wi-Fi throughout the property and on the beach.
images: Quintessence Hotel Anguilla