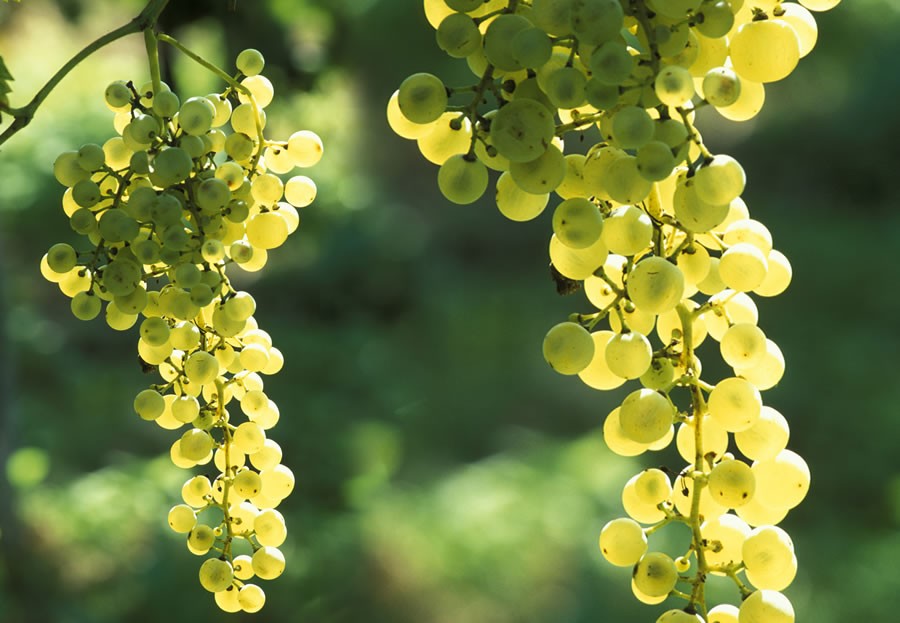 ---
This article titled "Prosecco sales fizz as champagne goes flat" was written by Sarah Butler, for The Guardian on Monday 18th November 2013 12.44 UTC
Sales of prosecco are bubbling over as the Italian sparkling wine replaces champagne as the drink for everyday celebrations and gatherings.
Majestic Wine, the specialist retailer, said sales of prosecco were up by 39% in the six months to the end of September while champagne sales remained flat.
The success of the Italian fizz contributed to a 4.2% rise in profits at Majestic to £9.5m for the half year, as sales rose 3.3% to £130.2m.
Steve Lewis, the chief executive, said: "The growth of prosecco is a long-term trend but it has really stepped up this year. It's become a really social drink which is not just for celebrations but for drinking with friends and family on a Friday and Saturday night."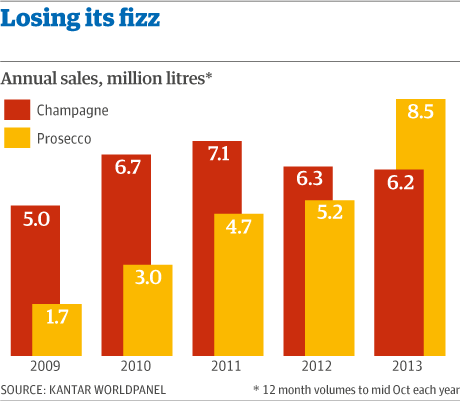 Majestic Wine's sales reflect a pattern across the market with the number of bottles of prosecco sold in the year to October 65% higher than the previous year, according to market research firm Kantar World Panel. That came on top of last year's 9.6% increase.
For the first time, Britons are drinking more prosecco than champagne as sales of the French drink slipped back 1.5% over the same period, on top of an 11.9% slide the year before. The amount of still wine sold has been virtually static for three years. Prosecco's popularity has partly been driven by price. At an average of just under £10 a bottle, it is less than half the cost of a good champagne. "It's an affordable luxury," said Lewis.
While champagnes from Veuve Clicquot and Bollinger remain Majestic Wine's second and third most popular wines – behind a New Zealand Sauvignon Blanc – sales of the French fizz were flat on last year. Customers switching from cheaper champagnes to prosecco have made it the retailer's fourth most popular wine. "If they are going to buy champagne they buy a really good champagne," Lewis said.
"Champagne is still really important to us, it makes up 12% of our sales, but I think it is now a different market from prosecco. Champagne is about personal consumption for celebrations whereas prosecco is for every day."
Lewis said many galleries and launch events now opt for prosecco over its French rival.
For the UK as a whole, champagne sales have dived from £900m in 2008 to £599m last year and are expected to continue to fall in favour of cava and English sparkling wine as well as prosecco, according to market research firm Mintel.
It said both these sparkling wines have benefited from "increasing credibility and, crucially, typically cheaper price in relation to champagne" while champagne's exclusivity has taken a knock from supermarket price-cutting at key times like Christmas.
While prosecco sales are growing at the fastest pace, cava sales are far bigger overall, according to Mintel, accounting for around half of sparkling wine retail sales.
In comparison, all the Italian sparkling wines, including prosecco, asti and frizzante, account for a third of sparkling wine sales.
guardian.co.uk © Guardian News & Media Limited 2010
Published via the Guardian News Feed plugin for WordPress.