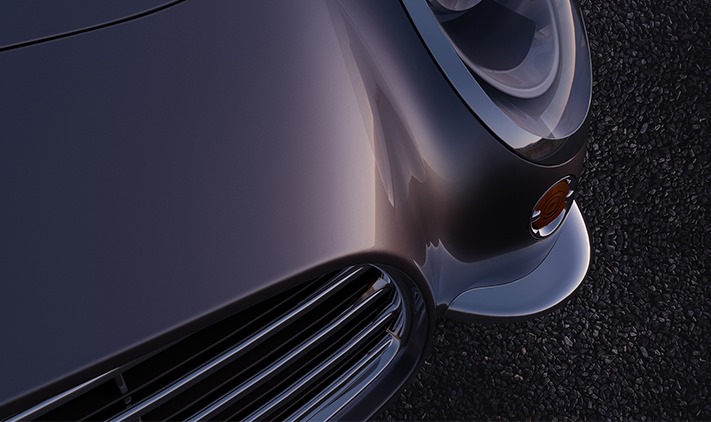 When you do not find what you are looking for in terms of cars, you go to another dealer or you build your own dream car. The all-new British company David Brown Automotive of the British businessman and car enthusiast David Brown hopes to be a real alternative to existing luxury British sports cars with its first model codenamed "Project Judi." The new car company isn't starting from scratch, so the new manufacturer have a slightly higher chance of success.
"Project Judi" will be revealed to the public at the Top Marques Show, in Monaco, on 17th April 2014 and will be a classically styled car prepared for limited production by Envisage Group, with a form signed by former Land Rover designer Alana Mobberley. Judi will combine a classically-inspired exterior design, with the latest in performance, dynamics, technology, comfort and refinement.
Underneath Judi's bespoke exterior design, is the chassis and powertrain of the Jaguar XKR, optimised specifically for the car by Envisage group engineers. The luxury car will boast a thoroughly modern 5.0-litre Supercharged V8 engine, driving the rear wheels via a 6-speed automatic transmission. Performance will be "suitably brisk, yet refined", delivering 0- 60mph in 4.6 seconds and a top speed exceeding 155mph (248 km/h).
"As reliability is vital, we chose to adopt a thoroughly proven and acclaimed chassis that not only delivers dynamic performance but also lends itself to our lightweight aluminium design. Renown for its performance and handling, the XKR has been extensively developed and refined by one of the world's greatest car manufacturers, making it an obvious choice on which to base our car" said David.
David explained: "I wanted all the impact and style of a classic sports car, but with modern capabilities and conveniences. This is what I want in a car, but it's not something anyone really offers. So, I've created it myself."
"It has been developed using a combination of both traditional and contemporary technology, including the latest in automotive expertise. It has undergone a thorough analysis and development programme, including highly advanced windtunnel and dynamic simulations."
Read about the next green edition of the 2014 Top Marques Show.