Galaxy Note 3 with a bling. Limited-edition cover for the Galaxy Note 3.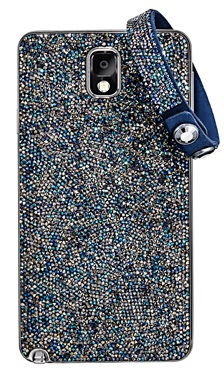 South Korean giant Samsung embraces the creativity of fashion and enables it through its technology. During this season's Mercedes-Benz Fashion Week, the latest Samsung's smartphones were presented with a limited-edition custom cover. The limited edition Samsung Galaxy Note 3 case with a bracelet bundle is a collaboration with Swarovski. The global fashion accessories leader also designed the backstage Samsung Galaxy Lounge for Mercedes-Benz Fashion Week Fall Winter 2014, a custom Swarovski Crystal curtain, and a sparkling decor.
Bundled with a sparkling bracelet, the custom Galaxy Note 3 cover is covered in exquisite Swarovski Fine Crystal Rocks and available in three colors –Jet (black), a custom blend of Crystal Bermuda Blue and Crystal Metallic Light Gold, and Crystal Metallic Silver.