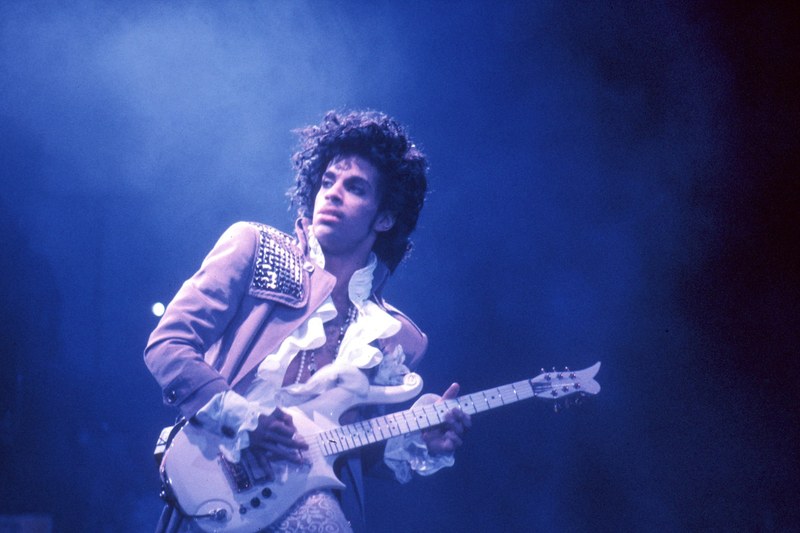 ---
This article titled "Prince: how his androgynous style influenced fashion" was written by Priya Elan, for theguardian.com on Friday 22nd April 2016 11.15 UTC
In the late 70s and throughout the 80s, the yearly advent of a new Prince album brought with it a visual image as strong and defining as the music contained within. "I wear what I want because I don't really like clothes," he lied once, in a rare interview. Like David Bowie, Prince toyed with the ideas of the "other": the feminine, the alien, the raceless. Through costume and artwork, he created the Prince that became iconic: the wistful flâneur with Egyptian-style eyeliner.
Part Pierrot, part Little Richard and part doe-eyed Bambi. Taken in isolation, each element of his style was one thing, but combined with the music, they spun a web of mystery, a crescendo of coded whispers about gender, sexuality and visual identity. In 2016 – when the most talked-about label in fashion, Vetements, is a gender-neutral one and where the likes of Gucci and Tom Ford have combined men and women's shows – Prince's "grey area" style was pioneering.
It all began in 1979 on the cover of his second album. Here the fledgling Prince appeared shirtless, a halo of Farrah Fawcett waves. On the back of the LP, his intentions to kick against rock and soul conventions were clear: there he was, sans clothes, riding atop a winged white horse: a Dionysian nymph full of sexual intent.
But that was a subtle, soft-focus opening shot compared to what was to come. 1980's Dirty Mind remained his most extreme look (until, of course, the backless pants); a Mac, bikini briefs and a neckerchief. The sexually open content of the lyrics was mirrored by his look, which riffed on the teddy boy revival but added the spectre of the flasher in the local park. On stage, he would augment the look with thigh-high stockings, a fact not appreciated by Rolling Stones fans who booed him off stage when he opened for the band on tour.
By 1984's Purple Rain (and under the guidance of costume designer Marie France), he had perfected his iconic look: frilly shirts that were the cousin of Princess Di's pie-crust shirts, stack-heeled platform boots and his hair tightly wound into a rapturous bouffant of dancing curls. It was dandyish but it also nodded to the military jackets of Jimi Hendrix and the psychedelia of Sgt Pepper.
This European romantic look cut through his band, the Revolution, but also his associates, such as Sheila E and the Family. Musically, he was generous with his talent and his proteges were many. He liked doubles, multiples of himself and these proteges sartorially mirrored his stylistic changes: silk camisoles for Vanity 6, zoot suits for the Time. On his 1988 Lovesexy tour, his polka-dot suits were colour matched by the complementary bodycon outfits of dancer Cat and Sheila E, which were proto-Henry Holland.
As one of the biggest pop stars in the world, Prince brought a new conversation about gender to fashion. He wore high heels and lace gloves, making the world think about how a man or a woman should dress, pushing the boundaries of taste and acceptability. As singer Frank Ocean highlighted in his tribute: "He made me feel comfortable with how I identify sexually simply by his display of freedom from and irreverence for the archaic idea of gender conformity." A noted influence on Donatella Versace, Tommy Hilfiger and Matthew Williamson, Prince also directly and indirectly influenced the look of Blood Orange's Dev Hynes, D'Angelo and Justin Bieber. Prince ignited the conversation about gender that we are still having today.
guardian.co.uk © Guardian News & Media Limited 2010
Published via the Guardian News Feed plugin for WordPress.