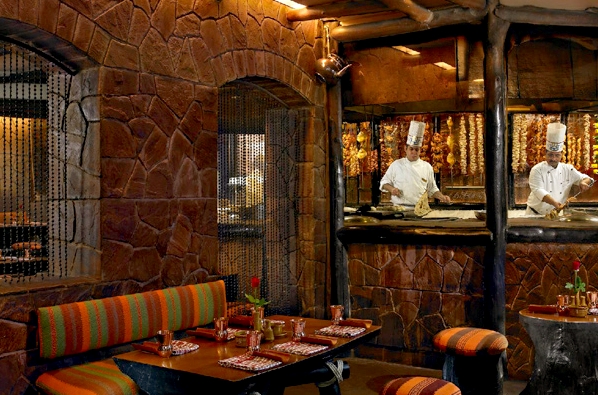 Bukhara, ona of the world's best Indian restaurants and a beacon of epicurean excellence, comes to London from its home in Delhi at the ITC Maurya, a Luxury Collection Hotel for two weeks from Thursday 17 May to Friday 1 June 2012.
Bukhara at Sheraton Park Tower is an epicurean experience, styled by Creative Director Waris Ahluwalia: an impassioned traveler, designer, actor and The Luxury Collection's newest Global Explorer. "I wanted to celebrate the beauty of nature in India, a country of vast and varied landscapes that has the ability to transport people to the magical garden that my heart sees," says Waris Ahluwalia.
The Luxury Collection has always celebrated exceptional culinary experiences as a way to transport travellers and bring a location to life," says Paul James, Global Brand Leader, St. Regis and The Luxury Collection Hotels & Resorts. "Given Londoners' proclivity for Indian cuisine, we are excited to introduce this legendary culinary institution to Britain's gastronomic scene."
Open for only two weeks, acclaimed ITC Hotels Corporate Chef Manjit Gill will introduce guests, residents and the local community to signature dishes such as Sikandari Raan (Marinated Whole Leg of Spring Lamb), Murgh Malai Kebab (Creamy Chicken Kebab) and the not-to-be-missed Dal Bukhara (a combination of whole black lentils, tomatoes, ginger and garlic slow-cooked over coals for 18 hours).
"For thirty four years, my passion has been bringing to life the unique tastes of the North West Frontier and the techniques of tandoor cuisine, inspired by the camaraderie of the campfire," says Chef Manjit Gill. "This pop-up is an amazing opportunity to transport the tastes of BUKHARA from New Delhi to London, taking a new generation of diners on an epicurean adventure that, we hope, will inspire guests to visit or re-visit India soon."
The BUKHARA pop up has also committed to supporting Elephant Family, a non-profit organization whose goal is to push the plight of endangered Asian elephants into the limelight, by donating a portion of proceeds to the charity. "I have always believed in Elephant Family's mission to protect the majestic creatures that call India their home," says Waris Ahluwalia. "I am delighted that The Luxury Collection and ITC Hotels are championing their efforts through this pop up."
Among the celebrated and iconic properties that make up The Luxury Collection portfolio, nine span all of India: from the cosmopolitan south Mumbai's ITC Grand Central to the elegant ITC Maratha at North Mumbai, from Agra's regal ITC Mughal steps away from the Taj Majal to the iconic ITC Maurya situated in the exclusive diplomatic enclave of New Delhi and the ITC Rajputana, Jaipur, which joined The Luxury Collection recently. With this year's opening of ITC Grand Chola, Chennai, the brand continues its growth momentum to reach 80 hotels and resorts globally with ten hotels in India, making it the brand's second largest market behind only the United States.