Palermo. Not Sicily, but rather a district in the city of Buenos Aires. It is here that the Club Hippico Militar is located. Of two fields, field one is known affecionately as "The Cathedral" to those passionate lovers of polo, Palermo is to polo as Wimbledon is to tennis or St. Andrews is to golf. It is the site of the most coveted tournament in polo, the Argentine Open. This year will be the the 120th year of the tournament. It may come with some unusual surprises.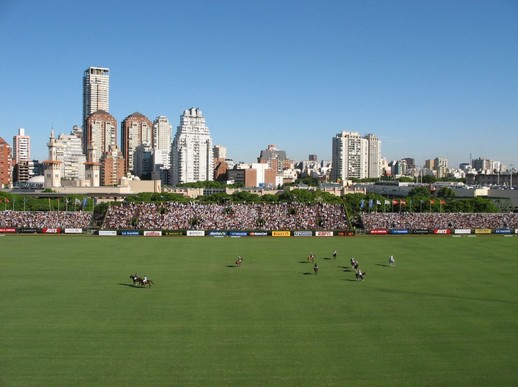 Picture above : Club Hippico Militar
Polo may not have originated in Argentina, but it is here that the game has reached its pinnacle. Argentine teams have dominated the sport for the last 80 years, and today Argentina supplies the most talented players in the world. The Argentine Open, the Tortugas Open and the Hurlingham Open, the three tournaments of the Argentine Triple Crown, are the only tournaments in the world that allow the top teams of up to 40 goal handicaps to compete on an even basis. Because of this, the Open is the tournament to win.
The Argentine Open began in 1893 as the River Plate Polo Championships, a name it kept until 1923. It has been played continuously every year since its inception, despite two world wars. Only in 1985, due to an epizootic, was the final played in the following May (1986.)
There has been only one foreign team that has won this championship. That was in in 1932 when Meadow Brook, the 30 goal American team, won. Certainly, non-Argentines have played in and won at the Argentine Open. The most notable was Carlos Gracida of Mexico, who won the Open six times. He was a member of the second of five teams that have won the Open while rated at a team handicap of 40 goals. This was in 1989 and 1990 with La Espadaña. Gracida won the Triple Crown in Argentina in 1994 playing with Ellerstina. He also is the only player in polo history to have won the Grand Slam of Polo (US Open, British Open and the Argentine Open in a calendar year) which he accomplished three times, in 1988, 1989 and 1994.
The most dominant team in the history of the Argentine Open was Colonel Suaréz, which won the title a total of 25 times. Twenty of those victories were led by perhaps the greatest player in polo history, Juan Carlitos Harriott. So dominant was Harriott and Colonel Suaréz that they recorded 20 victories in 22 years (in 23 championships.) Harriott had different team mates along the way, including his father, Juan Carlos Harriott for his first 7 victories. His regular team mates thereafter were his younger brother Alfredo (13 Open titles), and the brothers Horacio and Alberto Pedro Heguy, with 19 and 17 championships, respectively. This team was the first to be rated at 40 goals (all players carrying a 10 goal handicap, the maximum in polo) in 1975, 1977, 1978, & 1979, their last year playing together.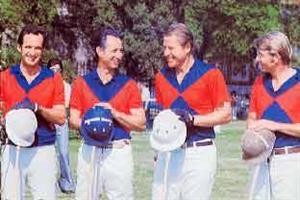 Picture above : Colonel Suaréz with Alberto Pedro Heguy, Horacio Heguy, Juan
Carlitos Harriott and Alfredo Harriott
The 1980's saw the emergence of two teams that have since shaped the history of Argentine polo. The first was La Espadaña, led by Gonzalo Pieres. This team won a total of 6 Opens and was the second team to be rated at a 40 goal handicap The other team of importance was Indios Chapaleufú. They recorded their first championship in 1986, beating the favored La Espadaña. They did it with three brothers playing who were the sons of Horacio Heguy. The three were the two twins, Gonzalo and Horacito, and younger brother Marcos, alongside Alejandro Garrahan. In 1991, Indios Chapaleufú, replacing Garrahan with their youngest brother, Bautista, won again. They became the first team of four brothers to win this championship, which they repeated in 1992, 1993 and 1995. By 1992, they were the third team to be rated at 40 goals. The 1996 winners, Indios Chapaleufú II, included the three sons of Alfredo Pedro Heguy. All 9 Heguys have been rated at 10 goals durig their careers.
Picture bellow : La Espadaña with Ernesto Trotz, brothers Gonzalo and Alfonso Pieres, and Carlos Gracida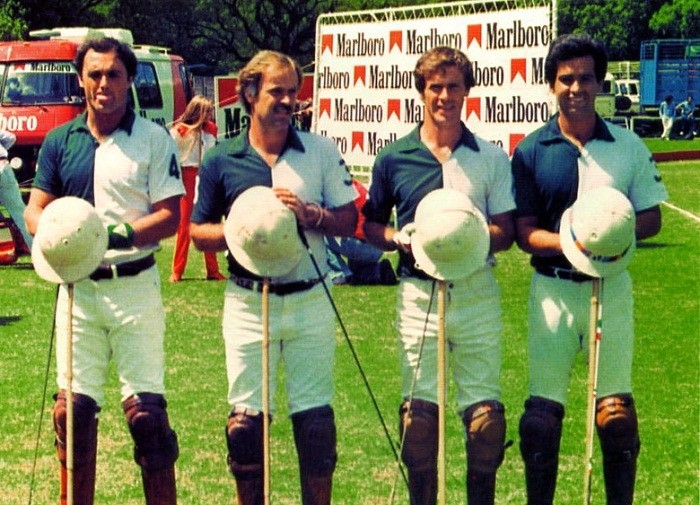 Picture Bellow : Los Indios Chapaleufú – The Heguy Brothers Bautista, Gonzalo, Horacito and Marcos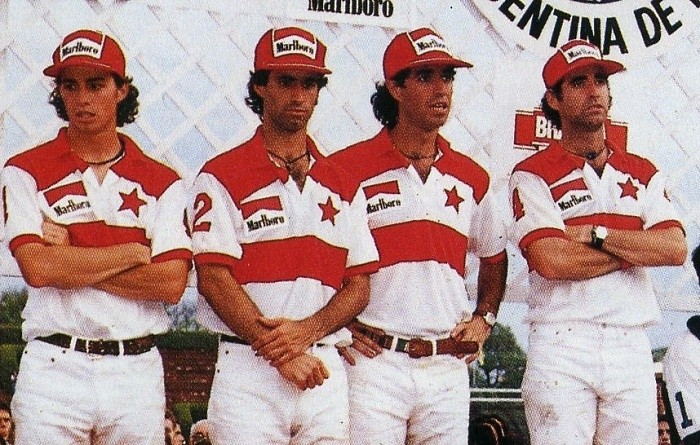 Meanwhile, during the 1990's, after La Espadaña had dissolved, their captain, Gonzalo Pieres, was forming a new team. He found two young players in Mariano Aguerre and Adolfo Cambiaso. Both were extremely talented. Gonzalo took Mariano, as a 17 year old 0 goal handicap player, with him to play in the United States. Later, he combined the talents of Aguerre with that of Adolfo, 5 years younger than Mariano, to form a new team, Ellerstina. They played the Triple Crown tournaments in 1992. By 1994, Ellerstina won the Open, which they repeated in 1997 and 1998. From 1991 through 2001, all the Argentine Open championships were won by either Indios Chapaleufú, Indios Chapaleufú II or Ellerstina.
The new millenium saw the emergence of two new teams that have dominated the Open ever since. Adolfo Cambiaso created his own team, La Dolfina. After appearing in the finals of 2000 and 2001, he won in 2002. Mariano Aguerre played for a number of teams, winning the title with Indios Chapaleufú in 2001, replacing Gonzalo Heguy, who died in an auto accident in 2000. The year 2003 saw another four brother combination win the title, with the Novillo Astrada brothers, Javier, Eduardo, Miguel and Ignacio. They won all three of the major Argentine titles that year. The Heguys were back in 2004 as Alfredo Pedro's sons, Alberto, Ignacio and Eduardo, playing once more for Indios Chapaleufú II, along with Milo Fernandez Araujo, won the Open.
Gonzalo Pieres was not done yet in creating new teams. By now, two of his three sons were old enough, and talented enough, to play at the highest level of competion. They began playing at the Open under the name of Ellesrtina, and reached the finals in 2005. Both boys, Gonzalito and Facundo, had their handicaps raised to 10 goals. They were defeated by Cambiaso's La Dolfina. La Dolfina went on to win in 2006 and 2007, the last playing against Ellerstina. Finally, in 2008, Ellerstina beat La Dolfina in the finals. This continued a remarkable rivalry which has not stopped. These two teams have been facing each other in the finals every year since 2007. La Dolfina won in 2009 and 2011. Ellerstina won in 2010 and 2012. The last victory was with the youngest Pieres brother, Nicolas, and Mariano Aguerre, who is the brother-in-law of the three Pieres brothers. A number of these finals were decided in a sudden death overtime. Both La Dolfina and Ellerstina have been rated at 40 goal handicaps.
Which brings us to 2013 and a most unusual situation. Of all the players that have competed in the Argentine Open, 3 players are tied in 8th place for the most wins at 9 apiece. Oddly enough, these three are Gonzalo Pieres, Mariano Aguerre and Adolfo Cambiaso. If history repeats itself this year, as it has for the past 6 titles, we can expect to see La Dolfina facing Ellerstina in the finals. Cambiaso will be competing against Mariano Aguerre once again. The 8th place tie will be broken.
Many believe that Adolfo Cambiaso is the best player ever to have played this game. Although his teams were never as dominant as that of Harriott's Colonel Suaréz, Cambiaso, as a player, dominates his opponents and has changed the style of play in polo so that one invidual can offset an entire team's efforts.
This year's Argentine Open will offer the possibility of seeing history in the making. Palermo, Buenos Aires is the place to be in November and December.
Picture Bellow  : Adolfo Cambiaso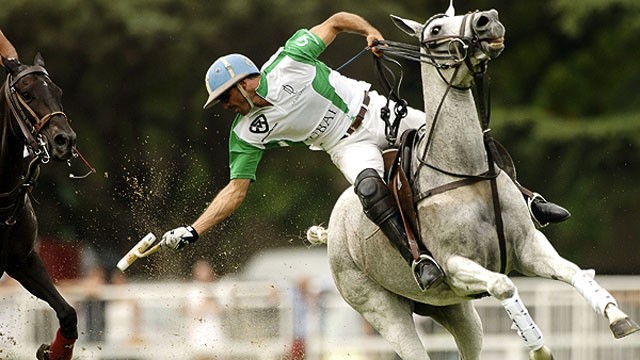 Argentine Open Individual Wins
20 Juan Carlos Harriott (hijo)
19 Horacio Heguy
17 Alberto Pedro Heguy
13 Alfredo Harriott
12 Enrique Alberti
11 Juan A.E. Trail
10 Juan Carlos Alberdi
9 Gonzalo Pieres
9 Adolfo Cambiaso
9 Mariano Agurerre
Titles by club .Team Titles
Coronel Suárez 25
Hurlingham 14
North Santa Fe 8
El Trébol 8
Venado Tuerto 7
La Espadaña 6
Indios Chapaleufú 6
La Dolfina 6
Ellerstina 6
Indios Chapaleufú II 4
The Casuals 3
Las Rosas 3
Santa Inés 3
Santa Paula 3
Santa Ana 3
Las Petacas 2
Western Camps 2
Flores 1
La Victoria 1
San Carlos 1
Palomar 1
Coronel Suárez-Los Indios 1
La Rinconada 1
Meadow Brook 1
Tortugas 1
Los Indios 1
Los Pingüinos 1
Coronel Suárez II 1
La Aguada 1
An article by John Francis Jackson
About J.F.Jackson
American business advisor living outside of Buenos Aires. A passionate polo player, he writes on the subject of polo and raises polo ponies on his ranch.
Polo is the only sport that offers the combination of excitement, danger, elegance and glamour. It has been described the "King of Sports and the Sport of Kings." It is the oldest and fastest non-mechanized sport.
Some say, "Polo is faster than hockey, rougher than rugby and sexier than golf."