L2 Releases Inaugural Intelligence Report: Mobile
"M-influence" to Replace "M -commerce" in business lexicon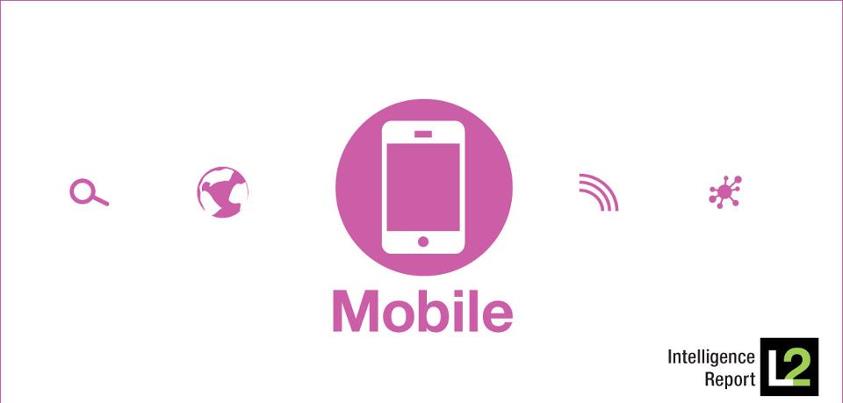 23% of Google Searches for prestige brand terms originate from a mobile device (up from 14% last year), signaling a dramatic shift in device traffic for the brands reviewed, according to L2's Inaugural "Intelligence Report: Mobile".
Although consumer usage of mobile devices continues to escalate, prestige brands have made limited, incremental investment in mobile since L2 think tank established a baseline in last year's first-ever Prestige 100: Mobile IQ study.
The new L2 Intelligence Report: Mobile examines key data, trends, and insights pertaining to five prestige industries (Fashion, Watches & Jewelry, Beauty, Retail, Hospitality). This research release seeks to identify and evaluate strategies to unlock the potential of smartphone and tablet platforms.
Only 57% of the 100 brands examined offer an optimized m-commerce experience. Nearly one-third of brands rely exclusively on the desktop version of their site to sell items available online to mobile consumers, says the think tank for digital innovation.
Only 25% of prestige brands pursue mobile-specific paid search strategy—actively optimizing ad copy and links to make the most of small screen real estate. 27% of the 238 apps produced by prestige brands for the iOS platform have never been updated following the initial release, signaling experimentation versus a commitment to refining engaging apps that "stick."
Fashion brands are the most likely to release an app and not support it with incremental updates (40 percent). 58 percent of beauty brands apps found in the U.S. App Store were created for APAC markets (45 percent have no user ratings). Watch & Jewelry brands are most likely to create iPad app (89 percent). Hospitality brands remain the most prolific app developers (45 percent of available app released within the past year, driven by the steady release of property-specific apps). Retail brands release far fewer (but better) apps, update them with much greater frequency, universally support in-app cart functionality, and solicit substantially higher user feedback (1,032 user ratings).
"L2 believes that the hype surrounding m-commerce is giving way to the reality of m-influence—in-store retail sales driven by, but not consummated, on smartphones and tablets." said Scott Galloway, Clinical Professor of Marketing, NYU Stern, and Founder, L2 Think Tank.