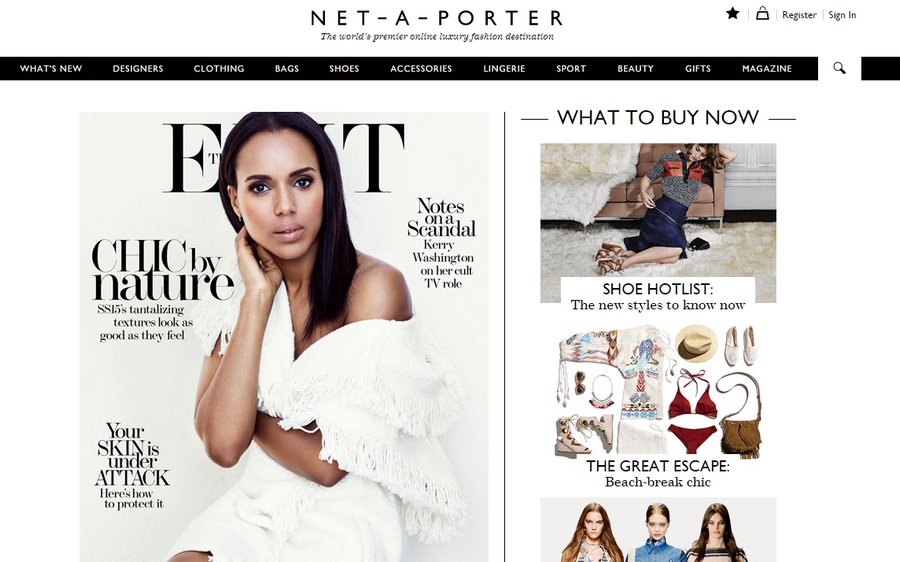 ---
This article titled "Net-a-Porter merger with Yoox: marriage of very different high-end fashion sellers" was written by Hannah Marriott, for The Guardian on Tuesday 31st March 2015 16.50 UTC
When a customer spends £2,500 on a bag so tiny that it just about fits their keys, cards and lipstick inside it, a certain kind of shopping experience is usually expected: plush cream carpets, deferential one-on-one service and a tissue-wrapped purchase handed over in a glossy store bag.
It's hardly surprising, then, that when Net-a-Porter launched many were sceptical about whether the highest fashion labels could work online – not least because shoppers seemed unlikely to spend thousands on items they had never even touched.
Net-a-Porter confounded expectations by making online shopping simple and elegant. It presented customers with a chic edit of designer pieces, allowing them to consider multiple brands in one place, with clothes shot and styled as beautifully as they would be in a glossy magazine. It also allowed shoppers to hone in on items quickly – selecting shoes or bags or clothing, then filtering the results by designer, colour and size – and to save items to their "wish list", a dangerous feature that alerts clients when items they covet are close to selling out.
Yoox is a very different proposition. This is past- or end-of-season shopping – and the older clothes get, the cheaper they can be: items are often reduced even more the longer they are on the site. Those who know Yoox well adore it – the discounts are huge, the brands truly high end – but for the uninitiated its slightly chaotic design and presentation of clothes on plastic mannequins can be off-putting.
Yoox's customers are fashion aware and prepared to work for their winnings: stalking a pair of Miu Miu sandals for two months until they fall in price by another £100 is the behaviour of a style devotee. But these are not the sort of customers who demand a perfect shopping experience and the latest, hottest offerings. This is a site for fashion fans, but not for the 1 per cent.
Net-a-Porter, on the other hand, and its menswear brand Mr Porter, has always worked hard on branding. The company's founder, Natalie Massenet, is the perfect ambassador and a front row fixture thanks to her role as chairman of the British Fashion Council.
guardian.co.uk © Guardian News & Media Limited 2010
Published via the Guardian News Feed plugin for WordPress.