The McLaren 570S revealed ahead of its New York debut.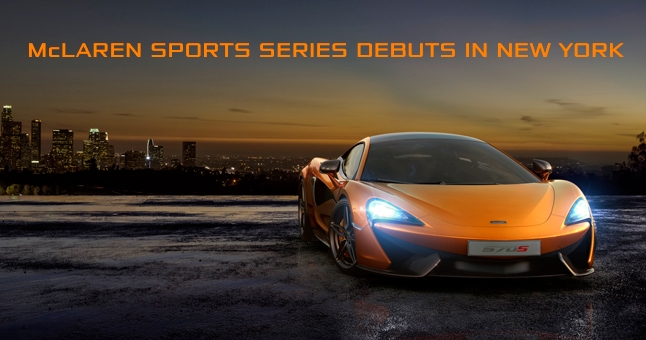 Technologically advanced high performance sports cars manufacturer McLaren has announced that the first model to be launched in its Sports Series family will be called the 570S Coupé. This V8 powered, carbon fibre structured two seater debuts at the 115th New York International Auto Show (from April 3 to 12 at the Javits Center).
The 570S Coupé marks the first time McLaren has offered its race-derived technologies in the sports car segment.
Like every McLaren, the performance of the 570S Coupé combines, as its names suggests, a power output of 570PS (562bhp) with light weight construction to give a class leading power-to-weight ratio of 434PS per tonne. The 570S accelerates from 0 to 100km/h (62 mph) in 3.2 seconds, while 200 km/h (124 mph) is reached in just 9.5 seconds with the pace not letting up till the car reaches a top speed of 328 km/h (204mph).
The carbon fibre MonoCell II chassis has been newly designed with more of a focus on day- to-day usability, offering improved ingress and egress from the cabin. It is incredibly strong and stiff yet weighs less than 80kg, offering optimum levels of protection. This lightweight structure, and the use of aluminium body panels, contributes to a dry weight of as low as 1,313kg (2,895lbs), almost 150kg lighter than its closest competitor.
Minimised weight and a turbocharged engine doesn't just bring great performance. The 570S also delivers excellent fuel efficiency and emissions for car that is also a member of the 200mph club, with fuel economy of 25.5mpg on the EU combined cycle, and emissions of 258g/km. For the US market, this means exemption from gas guzzler tax.
Like every McLaren the cabin of the 570S has been designed around the driver. As standard, the sports seats are leather upholstered – racing seats are optional – offering a high level of long distance comfort and support.
The 570S is comprehensively equipped with a full infotainment system including an all new TFT digital instrument cluster that changes configuration according to driving mode, a seven-inch IRIS touchscreen, now with integrated climate control functionality, Bluetooth connectivity and DAB digital / SIRIUS satellite radio (depending on market), mounted on a 'floating' centre console. A McLaren Audio Plus 8-Speaker Upgrade System and bespoke Bowers & Wilkins 12-Speaker Premium Audio System with 1280W surround sound upgrade is also available for the ultimate audio experience.