The new Mercedes-Benz SLS AMG Coupé Black Series: GT3 performance for the road
The fifth Black Series model from Mercedes-AMG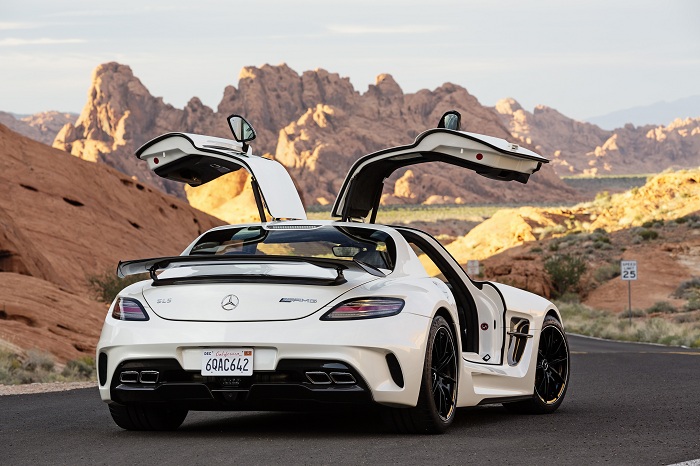 At the LA Auto Show, Mercedes-AMG will present the World Debut of the most extreme version of the celebrated SLS, the Mercedes-Benz SLS AMG Coupé Black Series.
Following on from the SLK 55 AMG Black Series from 2006, the CLK 63 AMG Black Series (2007), the SL 65 AMG Black Series (2008) and the C 63 AMG Coupé Black Series (2011), the fifth exponent sees the Black Series entering a new dimension with the gull-wing model.
"The new SLS AMG Coupé Black Series is a perfect study in the one hundred percent transfer of technology and engineering from motorsport to the road. We have drawn inspiration from the worldwide success of the SLS AMG GT3 customer sport racing car on both a conceptual and a technological level. Boasting numerous lightweight components and fascinating driving dynamics, our fifth Black Series model guarantees pure, unadulterated 'Driving Performance'. The SLS AMG Coupé Black Series is the ultimate choice for fast laps and highly emotional
driving experiences", commented Ola Källenius, Chairman of Mercedes-AMG.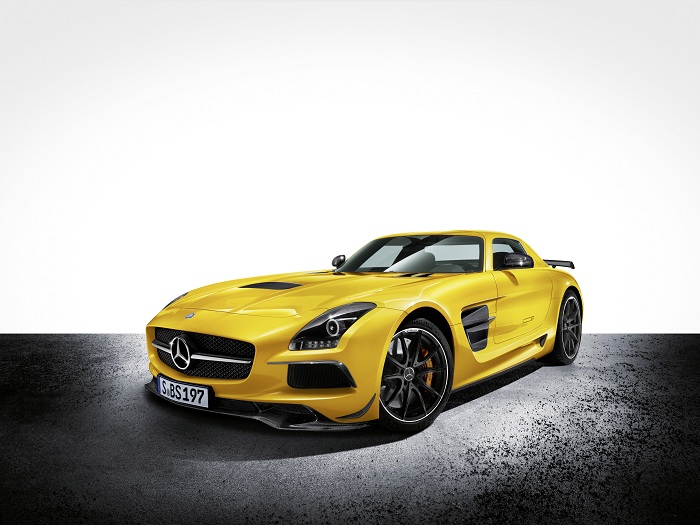 The AMG 6.3-litre V8 engine generates a power output of 464 kW (631 hp) at 7400 rpm and accelerates the most dynamic gull-wing model of all time to 100 km/h in 3.6 seconds. The coil-over AMG RIDE CONTROL performance suspension, the AMG ceramic high-performance composite brake system and the weight-optimised forged AMG light-alloy wheels with newly developed sports tyres combine with the electronically controlled AMG rear-axle differential lock and the AMG SPEEDSHIFT DCT 7-speed sports transmission featuring uncompromisingly emotional shift and response times to raise the SLS AMG Black Series to a new level.
The SLS AMG Coupé Black Series can be upgraded with the optional AMG Aerodynamics package. This package features a fixed, adjustable carbon-fibre rear aerofoil in the style of the SLS AMG GT3 in place of the standard-fit aerofoil which extends automatically at speeds of over 120 km/h.
"The most dynamic gull-wing model of all time goes by the name of the SLS AMG Coupé Black Series. Fans of high-performance super sports cars will be fascinated by its high-tech package. The basis for passionate performance and supreme driving dynamics is provided by numerous new developments in the area of the engine, power transmission, suspension and aerodynamics – also according top priority to our "AMG Lightweight Performance" strategy. Great efforts in the field of lightweight design have resulted in a DIN kerb weight of 1550 kilograms," notes Tobias Moers, head of overall vehicle development and member of the management board of Mercedes-AMG GmbH.