Luxury motorhomes with hidden luxury garage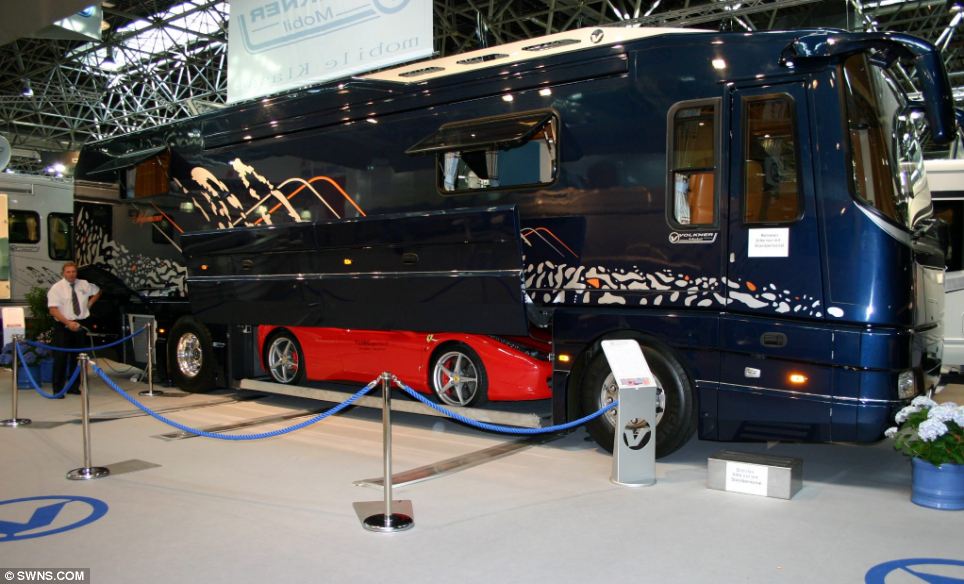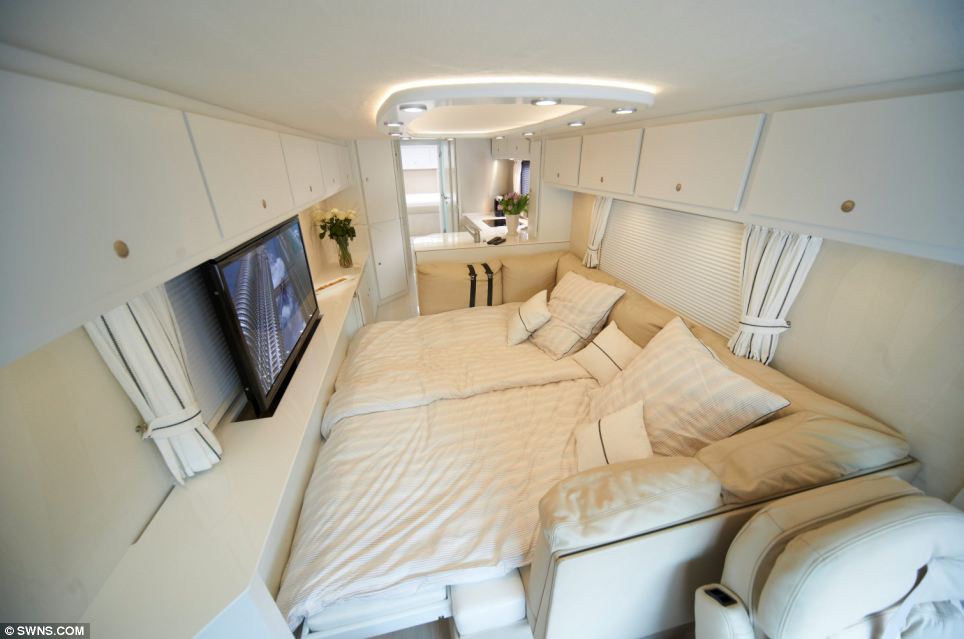 Their philosophy is to build the ultimate in luxury travel. Volkner Mobil builts world's ultimate camper van which can be driven all around the world and will allow you to take your favorite car with you. At the press of a button a secret compartment with room for a supercar is revealed.
The £1.2 million Volkner Mobil Performance Bus comes with a sumptuous interior of your choice, high-quality leather seats, real wood units, stone tiles in the kitchen and bathroom, an 800-litre freshwater tank, 600-litre wastewater and 300-litre black water tank.
The list of facilities includes large fridge-freezer, dishwasher, microwave, Bose-Dolby-home Entertainment Surround System and a widescreen TV, the the bedroom area converting into a TV lounge.
The innovative made-to-order Volkner Mobil Performance Bus is available in four model variations to choose from and takes around 12 months to build. Each and every luxury mobile home is made individually for every customer.
The trend-setting construction of the central garage of Volkner Mobil makes the taking along of different passenger cars possible – depending upon panel body length of the vehicle. In the type with an overall length of 10,5 m a Mini Cooper finds place. Even a taking along of Porsche 911, Jaguar XK8 Cabriolets, BMW 6er Cabriolet, Maserati Quattroporte or similarly dimensioned cars is made possible in the Performance type with an overall length of 12,3 m.
"The roomy bathroom can be arranged very individual. Ceramic, granite, marble, gilded armatures, towel rack heating elements, integrated music plant – everything is possible", says the builder. "Your desires and your taste set the tone. This bathroom is with a massage showers equipped with several programs and under-floor heating, which were installed even under the shower. A free standing bed accessible from three sides makes a comfortable entrance into the realm of the dreams possible. Space high cabinets from materials of your choice, as e.g. genuine wood, aluminium or steel, make the taking along of sufficient clothes for each cause possible."