The new Ducati Museum opens with new bikes that have written Ducati history.
A journey through the company's legendary history.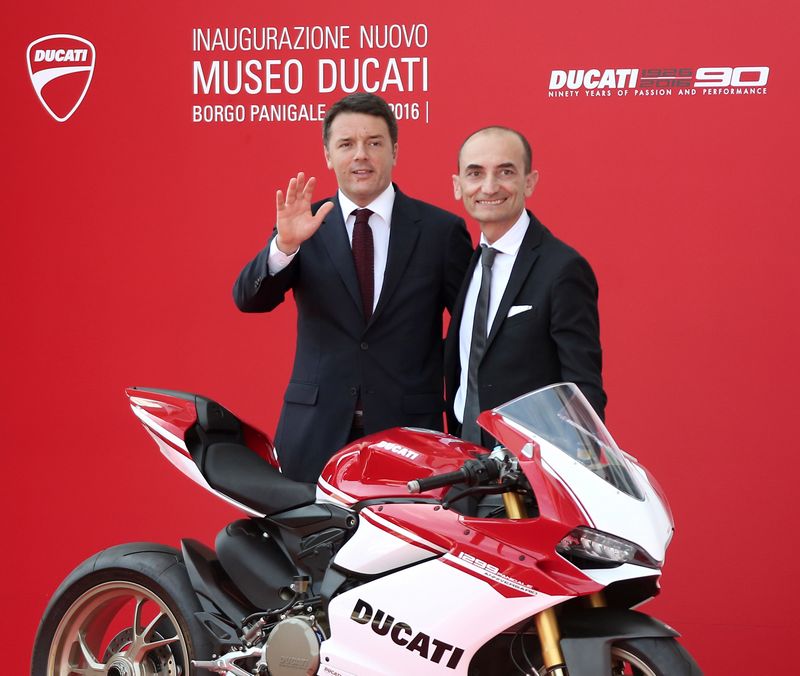 Fully renovated in celebration of the company's 90th anniversary, the Ducati Museum in Borgo Panigale reopens in style with an inaugural ceremony in the presence of Italian Premier Matteo Renzi. The permanent exhibition in Borgo Panigale is renovated in terms of its graphics and narrative. New features include an area dedicated to the road bikes that have written Ducati history.
The project to restructure the Ducati Museum, which boasts more than 40,000 visitors per year, was just one of many activities that the Borgo Panigale manufacturer implemented in celebration of its 90th anniversary (1926- 2016).
Characterized by a very modern concept in which the colour white dominates, the new Ducati Museum ensures that the product takes centre stage, maintaining one section that is dedicated to the racing world. Each bike included in the collection is treated and presented as a true work of art, a story told using a language composed of shapes and colours, and enhanced by dedicated installations.
With its new layout, the Ducati Museum also dedicates space to the most iconic road bikes that have written Ducati history. The Museum's new narrative is developed according to three paths: the history of Ducati production bikes and the social and cultural context in which they are conceived; the racing history with exhibits including race bikes and winners' trophies, and the final pathway, which tells of 'Ducati moments' or rather those facts, people and technological innovations that have contributed to Ducati's history, including, of course, the 'Ducati heroes', the most representative riders who, on board Borgo Panigale bikes, have written key chapters of motorcycle racing history.
The new Ducati Museum hosts 44 bikes, comprising 26 race bikes and 18 road bikes. The area dedicated to the production bikes is subdivided into four rooms, with each bike presented and exhibited together with the relative technical specification, a description of the individual components on show, and enhanced with original artistic installations that render the exhibition even more current and emotional. An example for everyone: the DNA structure that accompanies the Ducati 916, a symbolism to represent the Ducati brand's founding values, expressed in a superlative way by the stylistic and technical work of art created by Massimo Tamburini, the undisputed forefather of a new generation of sports bikes.