Sakahàn: International Indigenous Art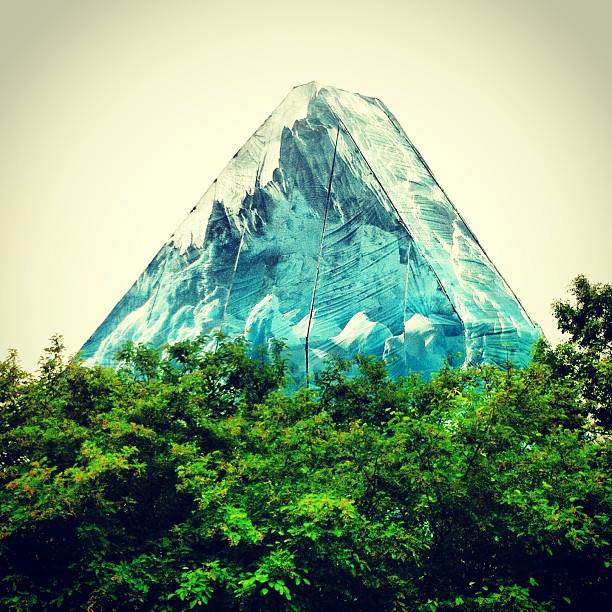 Sakahàn, meaning "to light a fire" in the language of the Algonquin, is the National Gallery of Canada's largest survey of recent Indigenous art. It highlights over 150 works by more than 75 artists from around the world, including impressive installations like an Iceberg.
The monumental art work was created by Greenlandic artist Inuk Silis Høegh. Entitled Iluliaq [Iceberg], the site- specific installation is part of the NGC's major summer exhibition Sakahàn: International Indigenous Art, the largest-ever global survey of contemporary Indigenous art.
Made from 56 panels, each ranging from 4.6 to 6 metres wide and 18 to 21 metres tall, the installation completely covers the windows of the Gallery's Great Hall and took over ten working days to set up. Its total surface area is 4,645.15 square metres.
As the Great Hall window replacement project moves forward, Iluliaq will gradually "melt" along with it, beginning at the end of June and completely disappearing in December 2013.
As visitors approach Iluliaq, they hear the soundscape of cracking and rumbling ice, almost as though they were standing in the path of an actual iceberg. Playing up the effects of trompe-l'oeil, Inuk Silis Høegh did not simply work with a reproduction of an ice formation. Instead, he created an iceberg of his own imagination out of composite images from photographs taken by his father, renowned photographer Ivars Silis.
"It is a sort of perverse pleasure for me to construct my own iceberg, even if Iluliaq is only illusion and mimicked reality. If you look closer, you might question its credibility," explained Høegh.
"Is that formation really possible? Does gravity allow that protrusion? Would nature really behave this way? Maybe it would, because fortunately the world is vivid and reality exceeds my imagination. So why didn't I just print an unmanipulated photograph of an ice formation – why did I need to sculpt my image? Is it man's desire to control nature, to break it up in bits and put it back together? Or maybe it just comforts me that the ice is wild and that it threatens us with its fragility?… Overwhelmed with the realization that I can never grasp the world, I try to construct my own illusion of it. Copy pasting, and repeating the conceptions that I think I know," said Høegh.
In addition to exploring the duality of reality and fantasy, the artist encourages us to think about the human relationship with our shared environment. Climate change and the resulting glacial melt inspired Iluliaq which relates to earlier projects such as the artist created in Copenhagen at the North Atlantic House during the United Nations Climate Change Conference (COP15) in 2009. The rapidly melting polar ice cap is a global concern, and the fragility of the North's majestic icebergs elicits a protective sympathy, yet in scale and force these ice formations emanate a power that equally can inspire awe and fear.
http://vimeo.com/67901410#at=6