---
This article titled "Margiela documentary: The Artist is Absent – what do we learn about the Greta Garbo of fashion?" was written by Jess Cartner-Morley, for theguardian.com on Monday 27th April 2015 11.24 UTC
When we heard that filmmaker Alison Chernick had made a biopic about Martin Margiela, launching at the Tribeca film festival and now online, we were excited. The cult designer has never been photographed in public, and never once taken a catwalk bow. No one outside his inner circle knows what he looks like, beyond one grainy and unverified picture on Google Images. Finally, we'd get to see the real Margiela!
Well, actually, we don't. (The clue is in the title.) Although this documentary was made with the full support of Margiela, he never appears in it. (We do get one nugget: Jean Paul Gaultier, whom Margiela assisted earlier in his career, tells us that "Martin is very tall".) So, how do you make a biopic about a man who has never appeared on camera?
You do it the Margiela way, that's how. Margiela is about fashion and design in its purest form: no glamour, no image, no ego. In an industry where superstar designers are the norm, he insisted on working collaboratively with his teams. He made collections, which became the hot tickets of Paris fashion week, out of plastic carrier bags and wire coat hangers. He never booked celebrity models, and often covered his models' faces in hoods.
The result is a 12-minute film which may not show us Margiela, but gives a real sense of the man. You get to see his awesome "collaborators", the coolest talking-heads ever, who wear black and chain-smoke in the rain while talking about how Margiela subverted the media-circus of fashion and "forced you to look at the clothes". You get to hear Suzy Menkes talking about the "Greta Garbo of fashion", footage of his packed-out early fashion shows, and of make-up artists obscuring models' faces backstage with black paint on decorator's brushes. Apparently Chernick, who had found some early footage of Margiela with Jean Paul Gaultier, was disappointed when this was vetoed. But as fashion historian Olivier Saillard says in the film, Margiela "proved that you could make things out of nothing, and that's a very comforting idea for the world". An anonymous biopic: what could be more Margiela than that?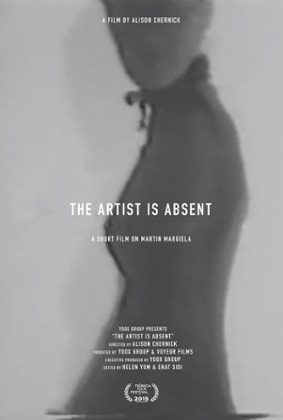 The Artist is Absent is the first documentary produced by Yoox Group, the internet shopping portal that in March announced its merger with Net a Porter.
guardian.co.uk © Guardian News & Media Limited 2010
Published via the Guardian News Feed plugin for WordPress.