Bertrand Guyon – the new design director for the house of Schiaparelli.
The relaunched house of Schiaparelli, backed by Italian luxury magnate Diego Della Valle, appointed fashion designer Bertrand Guyon as the new design director for the Schiaparelli Maison. The first Schiaparelli collection orchestrated by Bertrand Guyon will be presented in Paris next July during Haute Couture week.
Bertrand Guyon brings his creative energy to the Schiaparelli team, comprised of the design studio and the atelier both located 21, place Vendôme, the very same historical couture house where Elsa Schiaparelli used to work. He will develop the brand's design where couture rhymes with art and innovation.
« Elsa Schiaparelli is an enchanting couture house. I have always been fascinated by its exceptional legacy, its luminous and intimate story, its quirky and poetic world, its ultimate chic and its endless creativity. I feel honored to be part of Schiaparelli today and develop it further, respecting its heritage and tradition while adding a contemporary and modern take, something Elsa Schiaparelli has always demonstrated. » says Bertrand Guyon, ex-Valentino.
Along with Coco Chanel, Elsa Schiaparelli's greatest rival, Schiaparelli was regarded as one of the most prominent figures in fashion between the two World Wars.
The House of Schiaparelli was first opened in the 1930s at 21 Place Vendôme, but was shut down on 13 December 1954. In 2007, the Italian business tycoon Diego Della Valle acquired the brand, but it wasn't until Marco Zanini was appointed in September 2013 that details of the brand's revival became public. The house has been nominated for a return to the Chambre Syndicale de la Haute Couture list of members, and presented its first show since nomination in January 2014. Schiaparelli, using a hyper- exclusive business strategy, sold its first collection exclusively at a by-appointment boutique in Paris.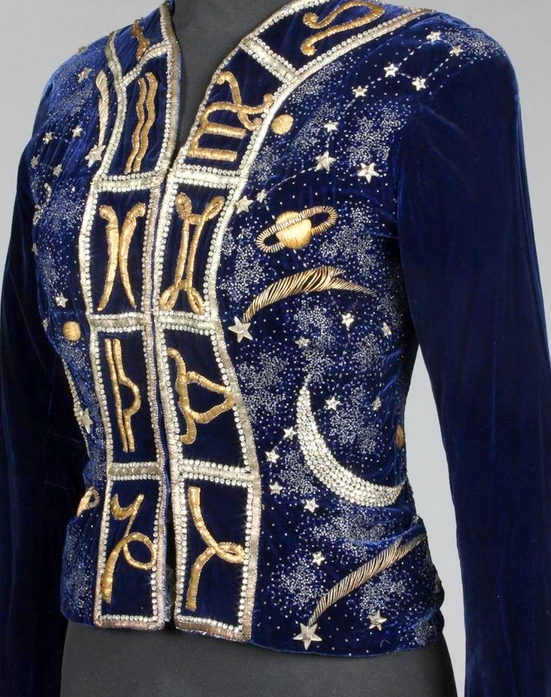 From March 14 to July 19, 2015 the Fine Arts Museums of San Francisco's Legion of Honor presents High Style: The Brooklyn Museum Costume Collection, a landmark exhibition of 20th century masterworks from the Brooklyn Museum Costume Collection at The Metropolitan Museum of Art.
Tracing the evolution of fashion from 1910 to 1980, High Style reveals the breadth of this world-class collection, with pieces by some of the most important American and European fashion designers from the period, including Elsa Schiaparelli. Among the selection on display, this embroidered midnight blue jacket from the Schiaparelli Haute Couture Astrology collection, Winter, 1938-9.