Superyacht Dilbar wins the Award for The Best Motoryacht of the Year during the World Superyacht Awards in Florence.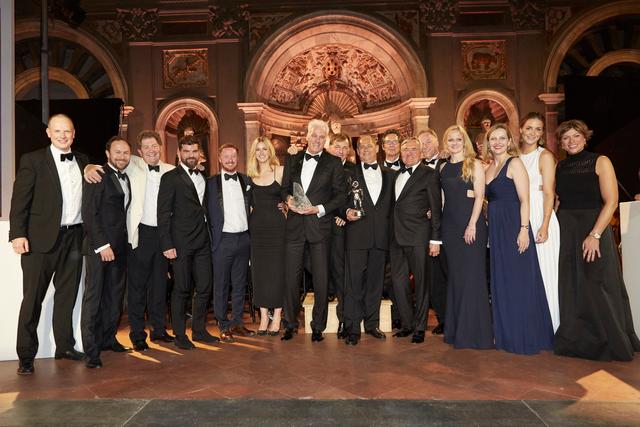 It was a magic night when last Saturday (13th May) the World superyacht Awards ceremony, organized by Boat International Media, took place in Florence in the palatial surroundings of the Palazzo Vecchio to celebrate the best of the best in Yachting in 2017.
Dilbar is a super-yacht launched on 14 November 2015 at the German Lürssen shipyard and delivered in 2016. She was built as Project Omar. The interior design of Dilbar was designed by Andrew Winch and the exterior by Espen Oeino.
The jewel in the crown of the Yachting Awards is the "Motor Yacht of the Year Award" which recognizes the very best motor yacht delivered in 2016. It is selected from all of the award winners in the motor yacht categories by a panel of esteemed judges.
Lürssen's superyacht Dilbar was named Motor yacht of the Year 2017 after the judges were dazzled by her outstanding design. "One of the most complex and challenging yachts to be built", the judges described her "as the most spectacular yacht they had ever seen and a clear winner for this prestigious award."
The 156m superyacht is the world's largest yacht by volume. According to Boat International, Lürssen also claims two other record-breaking features — Dilbar's 180 cubic metre swimming pool is believed to be the largest on any yacht, while her 30,000kw diesel electric power plant is also thought to be a record for a superyacht and gives her a cruising speed of 22.5 knots.
Dilbar also won in her category for "Displacement Motoryacht 3,000 GT and Above". The rules of the event dictate that should only one yacht be entered in a class, this class is amalgamated with the most appropriate alternative. Dilbar, being the only vessel to qualify for the 'Displacement Yachts of above 3,000 GT' class, was therefore placed in the class below. But when it came to judging, the judges decided that it was impossible to fairly decide a winner for this class when Dilbar was seven times larger in terms of Gross Tonnage (a measure of internal volume) than the next largest yacht.