World's largest superyacht is a floating private members' club for billionaires. For those looking for the most exclusive onboard residences in the world.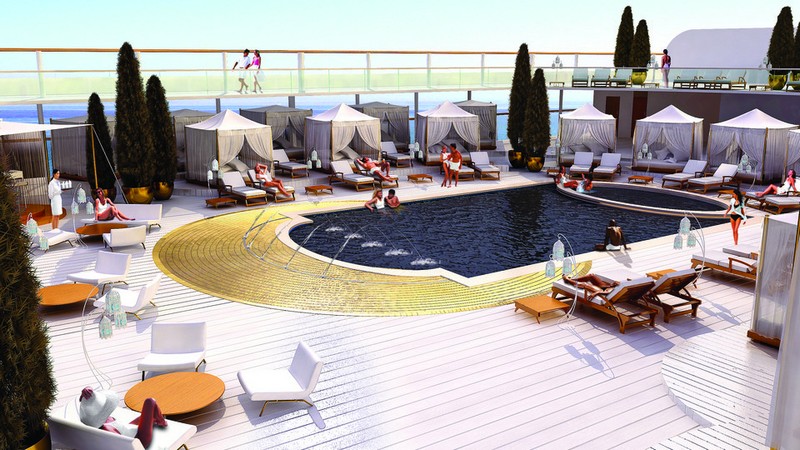 World's largest super yacht is set to make its first voyage in 2019-2020. Built by British concierge company Quintessentially, the 220-metre super yacht will provide the opportunity for the global elite to tour the world and attend the world's most desirable events. Costing £250 million to build and named Quintessentially One this world famous ship will serve Quintessentially Members as a seaborne private members' club anchoring in the world's finest locations including the Monaco Grand Prix, Cannes Film Festival, Rio Festival, Cuba to name a few …
"This is a wonderful way to cater and meet the demands of Quintessentially's global Members when they all descend on the same high-profile events which currently don't have enough supply. It will be the world's largest floating private membership club. Where the traditional cruise model is to go somewhere, dock and get off; we will dock and people will want to get on," commented Aaron Simpson, Quintessentially's Co-Founder. The company is headquartered in London and operates 67 offices worldwide. Quintessentially is a members-only "luxury lifestyle management service" that provides concierge services including travelbookings, restaurant recommendations, and access to events. Quintessentially Group includes 33 companies,
including Quintessentially Lifestyle, Quintessentially Events, and the Quintessentially Foundation.
The 112 berth super yacht, which will be 40 metres longer than the world's biggest private vessel Azzam,will feature an underwater bar, cigar storage room, wine cellar, spa with world-leading therapists andpersonal stylists, as well as hosting exclusive parties with famous performers. Membership at
Quintessentially is available from £15,000 and Elite Members can invite guests on to experience this most sought after boat.
The jewels in crown of the super yacht are 12 stunning triplex apartments located on the top decks. These are available for sale to those looking for the most exclusive onboard residences in the world.
Quintessentially One also features a boutique hotel with the finest accommodation with suites measuring 40sqm, 60sqm and 100sqm – all operated and managed by one of the leading boutique hotel brands in the world.
"[Imagine a world where the possibilities are endless, where every day is new and no night the same. Imagine a place where luxury is a rule not an exception. Imagine a never-ending voyage where the wild air invites you to discover the pleasures of life anew. Discover a cornucopia of delights for your delectation. Welcome to a golden age, welcome to Quintessentially One – the world's finest floating private club," Quintessentially team describes the project.
Experience the pinnacle of luxury living with Campbell Gray hotels. For cuisine, in the grand European tradition, The Wolseley will impress all with its elegant dishes and buzzy atmosphere. The Box, Manhattan's most celebrated theatre show, will bring excitement and entertainment with a twist to the high seas. Your health and well-being will always be tended to by Quintessence Spas that will offer luxurious spa treatments. Quintessentially One will also be adding other well-known brands to this luxury collection.