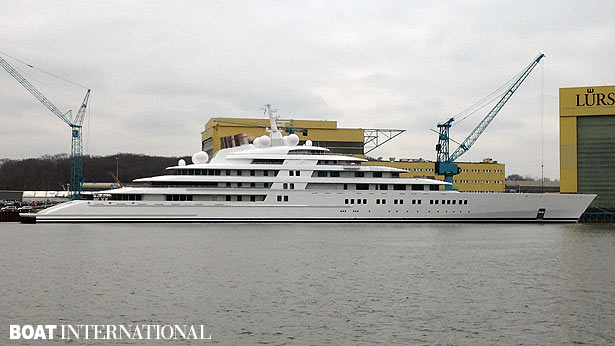 The world's largest private-owned superyacht, costing an estimated £450 million, was officially launched in Germany , announced Boat International Media.
Code-named "Project Azzam", this 590ft long superyacht is believed to have been built for a Saudi billionaire. It dwarfs Eclipse, the current holder of "the world's biggest private yacht", owned by Chelsea owner Roman Abramovich, by 57ft.
Designed by Italian yacht designers Nauta Yacht Design, and built by Lurssen in Germany, this 180m giant is said to be capable of a top speed of 30 knots (nearly 35mph) thanks to four immensely powerful engines using water-jet drives. The superyacht is likely to have a crew of 60 people or more and to feature luxuries such as on-board cinemas (with their own sweet shops), basketball courts, gold baths, saunas and snow-rooms, helicopter pads, hair-salons, health-spas, and submarines.
"Billionaires like to play the mine's-bigger-than-yours game, and Project Azzam is the ultimate trump-card. Lurssen is one of the world's most prestigious yacht builders, and we expect Project Azzam to feature the full complement of ultra-luxurious facilities," said Tim Thomas, Editor of Boat International superyacht magazine.