Rhinestone-encrusted Swiftwater Crocs Sandals unveiled as part of Christopher Kane's Spring Summer 18 Womenswear Collection.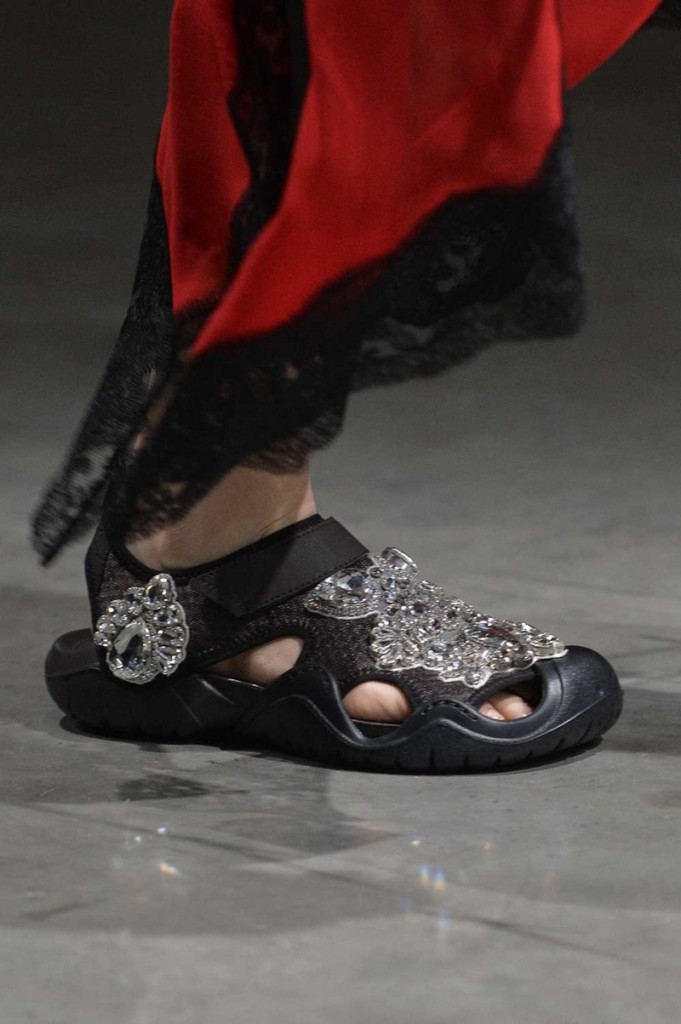 Christopher Kane enjoys taking risks and going to places other designers wouldn't touch. Christopher Kane's Spring Summer 2018 Womenswear show at London Fashion Week saw the debut of a new runway collaboration. The award-winning British fashion designer launched a collection of bespoke, limited-edition Swiftwater Sandals by Crocs. The sandals features a richly embellished rhinestone spin. This collaboration is particularly exciting as Crocs expands beyond their Classic silhouette into the popular Swiftwater Sandal style.
On September 19, 2016 Christopher Kane surprised guests at his London Fashion Week show by unveiling high fashion Crocs, featuring marbled designs and embellished with rough mineral charms. This unexpected collaboration generated worldwide interest, resulting in press coverage in publications such as Vogue, Elle and Cosmopolitan. For 2017, the Christopher Kane x Crocs collaboration offers a new vision in footwear via four unique colorways.
"I am very happy to continue working with Crocs, as I have admired the brand for a long time. It has certainly been the most controversial collaboration I have worked on, which makes it all the more fun," said Christopher Kane. "…Nowadays there are so many designer collaborations, it's very important to me that my partnerships stand out and mean something."
The Crocs Swiftwater Sandals were featured in the collaboration in five colorways, yellow, white, black, pink and mint green, and support the overarching theme of the seasonal collection.
"Working with Christopher reinforces our belief that Crocs' products are incredibly relevant in today's style arena." said Michelle Poole, Senior Vice President of Global Product and Marketing for Crocs. "Our partnership becomes a terrific vehicle for transforming the ordinary into the extraordinary, and elevating the everyday into desirable luxury – two of Christopher's key design philosophies."

Previously, Christopher Kane introduced marbled and gem-encrusted designs as part of his Spring Summer 2017 Womenswear collection. Most recently, Crocs debuted a collection of Christopher Kane-designed tiger graphic clogs featuring exclusive adornments.