New L2 Study Ranks Digital Competence of Over 100 Iconic Brands in Brazil, Russia, and India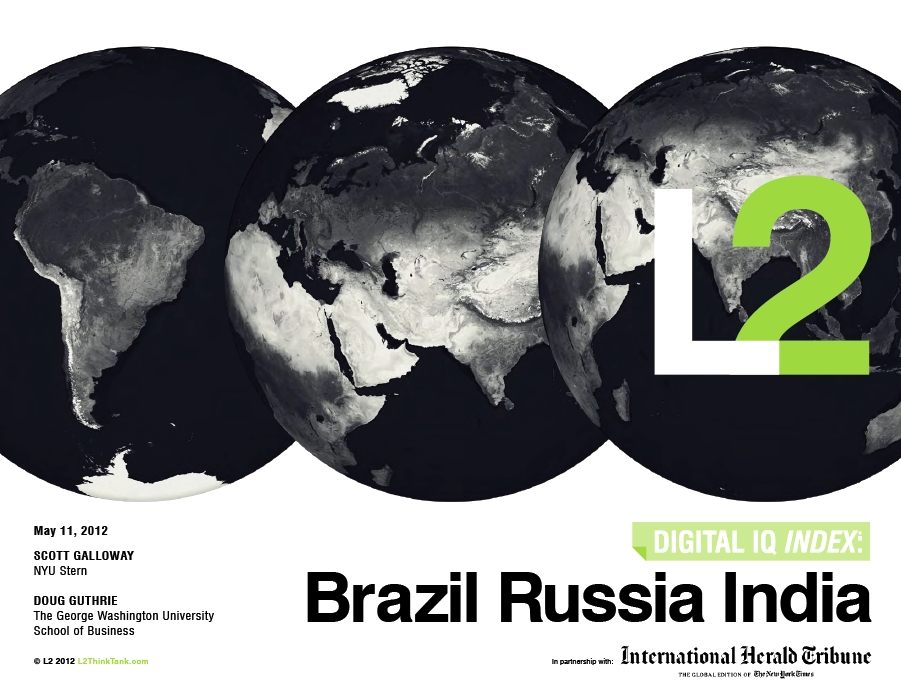 L'Occitane ranks #1 in both Brazil and Russia, and Westin Hotels & Resorts leads in India in the new L2 Digital IQ Index: Brazil Russia India. The Index, the first study of its kind, measures the aptitude of over 100 prestige brands across Beauty, Fashion, Watches & Jewelry, Specialty Retail, and Hospitality in some of the world's fastest-growing markets: Brazil, Russia, and India.
Luxury sales in these markets are growing twice as fast as the global luxury market, and are projected to reach a combined $205 Billion – or 20% of the global luxury market – by 2025. Double-digit growth in Internet penetration, over-indexing among the young affluent, suggests digital fluency in these emerging markets should be a priority for prestige brands. L2's thesis is that success in these emerging markets is inextricably linked to digital competence.
"Prestige brands have justifiably been busy developing strategies for China, but the time to focus on other large emerging markets is now," says Galloway. "Brazil, Russia, and India will combine for a quarter of the growth of the luxury industry over the next decade. The online medium presents a tremendous opportunity to reach these consumers who are increasingly connected, highly social, and who have an insatiable appetite for luxury."
Top Ranked Brands in Brazil:
1. L'Occitane
2. Sephora / Sack's
3. Avon
4. Melissa
5. InterContinental Hotels & Resorts
6. Natura
7. NET-A-PORTER
8. Burberry
9. JW Marriott
10. Lancôme
Top Ranked Brands in Russia:
1. L'Occitane
2. Yves Rocher
3. Dolce & Gabbana
4. Estée Lauder
5. Clinique
6. TSUM
7. Avon
8. NET-A-PORTER
9. InterContinental Hotels & Resorts
10. Bobbi Brown
Top Ranked Brands in India:
1. Westin Hotels & Resorts
2. ITC Hotel Group
3. Burberry
4. Macy's
5. Taj Hotels Resorts & Palaces
6. InterContinental Hotels & Resorts
7. Le Méridien
8. NET-A-PORTER
9. L'Occitane
10. JW Marriott
Key findings include:
Prestige brands appear to underestimate the influence digital in emerging markets has on purchases in mature markets
(e.g., by 2015, tourists will drive 60% of luxury purchases in Europe)
Only 22% and 27% of the brands benchmarked offer a site in Portuguese and Russian, respectively
As wealth grows across second tier cities, prestige brands appear to be fighting for the emerging middle class with the last
year's weapons (print and bricks vs. mobile and e-commerce)
Despite skyrocketing mobile adoption, only four brands offer a mobile-optimized Portuguese site, and only five offer a
mobile-optimized Russian site
21% of brands have a market-specific Facebook page for the BRI markets
Paid search is virtually ignored: in Russia, only 9% of brands invest in Google.ru, while only 2% of brands invest in Russian
search leader Yandex.